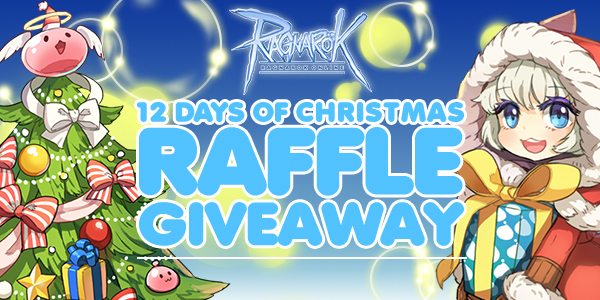 Ragnarok Online
12 Days of Christmas Raffle Giveaway!
We're ringing in the holiday season with a raffle event unlike any other!
Hold onto your hats, folks, we've got some cool prizes for you to win!
Starting Thursday, December 14, we'll be drawing raffle prizes every day for 12 days straight!
Here's how it works:
Each day, we will draw a total of 31 daily prizes from a pool of qualified players
15 winners will receive the Costume of the Day
15 winners will receive a code for 500 WPE
1 lucky winner will receive the Daily Big Prize
At the end of the event, we will draw from all qualifying entries over the course of the event to pick one Grand Prize Winner!
How to Enter
Gaining entries into the daily raffle is easy! All you have to do is qualify in one of two ways:
1 Daily Entry for having VIP active
1 Entry per 100 Kafra Points spent (per day)
That's all! As long as you meet those qualifications on any given day during the event, you automatically have an entry into the raffle and have a shot at winning the prizes!


Daily Prizes
The Grand Prize
After the event is finished on December 25, we'll pool together
all valid entries that existed during the event
and choose one at random to receive our
Grand Prize
!
Event Details
The event will start on Thursday, December 15 and end on Monday, December 25.
To meet the KP qualifications for the daily raffle, KP must be spent on the same day.
Example:

100 KP spent on Day 2 = 1 entry for Day 2 raffle
200 KP spent on Day 3 = 2 entries for Day 3 raffle
However, all those entries will count toward the final drawing for the Grand Prize!

Grand Prize drawing will pull from all entries during the event period.
Users may only win one Grand Prize and One Daily Big Prize during the event.
Physical goods (such as the Daily Big Prizes and the Grand Prize) can only be shipped to Canada and continental United States. Should you win one of these prizes from outside the shipping area, you will be given two options:

Pay the shipping costs to receive the physical goods
Receive an alternate prize:

3000 WPE as Grand Prize
1000 WPE as Daily Big Prize

Daily Big Prize winners and Grand Prize winners will be contacted via email from community@warpportal.com for shipping information. Please add this email address to your contact list to ensure you receive it if and when the time comes!
Item Prizes will be distributed on 12/27. Coupon and Physical prizes will be contacted by email registered to account.
December 14th Winners List
December 15th Winners List
December 16th Winners List
December 17th Winners List
December 18th Winners List
December 19th Winners List
December 20th Winners List
December 21st Winners List
December 22nd Winners List
December 23rd Winners List
December 24th Winners List
December 25th Winners List
[1/22/2018 Edit] If you won a Pen Prize please check your registered email for instructions. It should be coming from a @warpportal.com or @playragnarok.com email address. It contains instructions on claiming your prize and alternative options if you don't want the pen.
Edited by VModCinnamon, 23 January 2018 - 03:09 AM.
Mod Edit: Updated about grand pize