Let's make the holiday season merry and bright with some creative greeting cards!

Holiday Greeting Card Art Contest!
When: December 18 - January 10
Where: Right here!
Who: YOU!
The holidays are a wonderful time of year, with so many holidays to celebrate!
Send us your season's greetings with a wonderful Holiday Card of your own design!

Draw a Ragnarok-themed card for the holiday season!
It could be for any holiday celebrated during this time of year - Christmas, Hanukkah, Kwanzaa, Festivus, Boxing Day, New Years - take your pick!
At the end of the contest we will select 5 total winners to receive the winning prize.
A judging panel comprised of WarpPortal staff will be judging the entries based on originality, execution, and skill, so do your best!

How To Enter
To submit your entry, please share the card (or image of the card) on this thread and fill out the following form:

Entry Title:
RO Character Name:
Server:
Desired Participation Prize:


Please review before submitting!
Only one entry per user! Please do not submit multiple entries.
All entries must be created by the submitter specifically for the purposes of this contest. No commissioned works will be accepted, and no older work submitted to past contests or events will be accepted.
Entries must comply with the theme to qualify. That means it must be Ragnarok-themed, and a card meant for the holiday season!
All entries must be rated PG-13. No excessive violence, strong language, or NSFW content will be permitted.
Content of all entries must be related to international Ragnarok Online.
Please follow the rest of the general forum rules when participating in this contest - no inappropriate content, no bullying, flamebaiting, abuse, etc. Any entries containing these unsavory elements will be immediately disqualified.
Plagiarized entries will be disqualified. Entries containing plagiarized work, traced artwork, clipart, or photos lifted from other sources will be disqualified. Additionally, drawings submitted for other contests prior to this one will not be eligible for entry. Entries may be of any size or shape.
No post-reserving. Please only post when you are ready to share your full entry. Posts made by users to "reserve" a spot will be hidden by moderators.

Winning Prize
5 winners will receive the following prize:

15 Days VIP
+
Costume Large Ribbon Muffler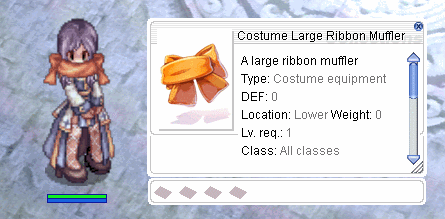 Participation Prize

All qualified participants will receive a choice of one of the following participation prizes:

Costume Present of Snow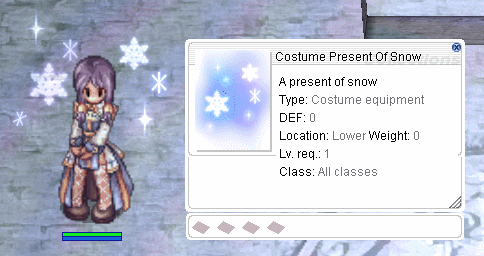 Creative Convention Hats:
(Note: All four colors are available on Renewal, but only Green and Red are available on Classic)




A Note On Costumes
The Winner prizes listed are available on Renewal servers. If you are declared a Winner and wish to receive your prize on Classic server, you will be PM'd by CM Astra for an alternate prize offer.
Only one Participation Prize per person! Please no requests for Renewal and Classic participation prizes on the same person
Though the prizes listed are unique to this contest for now, it is not intended to be permanently exclusive to this event, and may be used, sold, or offered once again in the future should the need or desire arise. Think of it as a timed exclusive
Happy Holidays everyone! Can't wait to see your entries!

Note: We're doing this over on RE:START too! If you want to participate and receive your prizes there, click on this link!
Addendum:
FAQ
Is this digital or traditional medium?
Both, either/or! Draw your card in any medium you wish

Crafting is welcome and encouraged too!
Can we enter both RO1 and RE:START card contests?
Yes, but under 2 separate entries! Please do not use a single entry for both contests
Are there any size restrictions? Will these double as loading screens in game?
Nope, and nope

Wait, did you just switch the prizes?
I did - Largely due to feedback that there was a distinct market price difference between the costumes that I was unaware of. Thanks for your feedback!