Can you feel this magic in the air?
It must be love!
It's almost Valentine's Day and 2018 is the Year of the Dog
And we'd like to celebrate them both with you!
When: January 29 - February 12
Where: Here on the Forums!
Who: Every iRO Player! Chaos/Loki/Thor/Odin Players!
Since it's almost Valentine's Day and it's the Year of the Dog, your challenge is to showcase puppy love!
You must interpret this theme in the following ways:
Tribute to the dogs/dog-like creatures/headgears/NPC of Ragnarok (examples: Garm, Atroce, Galion, Desert Wolf, Kobold, Hellhound, Vagabond Wolf, Costume Shiba, etc)
**YOU CANNOT TALK ABOUT SOME RANDOM DOG/DOG-LIKE CREATURE, IT HAS TO BE RAGNAROK-THEMED**

OR young love between first-class characters (swordsman, archer, thief, etc)
There are 3 categories to showcase the theme!
VISUAL ART
Includes: traditional and digital illustrations, pixel art, painting (no specific size or resolution required)
WRITING
Includes: poetry writing and short stories (must be between 100 to 3000 words; and must be submitted under a Spoiler tag)
CRAFTING
Includes: sculpting, woodcraft, papercraft, cooking, baking, doll-making, creating from raw materials
3 winning spots will be awarded to all three categories!
Entries will be judged based on skill, concept, and general execution by a panel of judges from the WarpPortal Staff.
Contest ends at 12:00PM (noon) PST on February 12, 2018
and winners will be announced the following week.
To submit an entry, please post on this thread and fill out the following:
Entry Title:
Category: (Visual Art/Writing [include word count]/Crafting)
RO Character Name:
Server:
If you are unsure of what category your entry might belong to, please do not hesitate to send me a message!
Please review before you submit!
Only one entry per person! Please do not submit multiple entries in any way. When you submit a valid entry, you are eligible to receive a participation prize on only one server (Chaos, Thor, Loki, Odin). Any users found to be submitting multiple times under alternate accounts will be disqualified.
All entries must be made by the submitter specifically for the purposes of this contest. No commissioned works will be accepted.
All entries must be rated PG-13. No excessive violence, strong language, or NSFW content will be permitted.
Content of all entries must be related to international Ragnarok Online and its contents.
Please follow the rest of the general forum rules when participating in this contest - no inappropriate content, no bullying, flamebaiting, abuse, etc. Any entries containing these unsavory elements will be immediately disqualified.
All entries must be able to be accessed publicly to be considered for the contest. For example, images must be hosted on a reliable source (Imgur tends to work best, avoid Photobucket if you can).
Illustration entries containing plagiarized work, clipart, or photos lifted from other sources will be disqualified. Additionally, drawings submitted for other contests prior to this one will not be eligible for entry. Illustration entries may be of any size or shape.
Any entry of any category containing plagiarized materials will be immediately disqualified.
No post-reserving. Please only post when you are ready to share your full entry. Posts made by users to "reserve" a spot will be hidden by moderators.
The contest host as well as WarpPortal staff reserve the right to deem any entry invalid for reasons such as breaking any of the above rules or failing to meet the minimum level of effort qualifications. Users who submit invalid entries will only be permitted to resubmit another entry by discretion of the Staff, otherwise, breaking the above rules will result in disqualification with no second entry.
Grand Prize
Grand prizes will be awarded to 3 winners for each category (Visual Art, Writing and Crafting).
Winners will be able to select one of the grand prizes below which will either be a Named Costume Dog Officer or a Named Costume: Star Reading Hat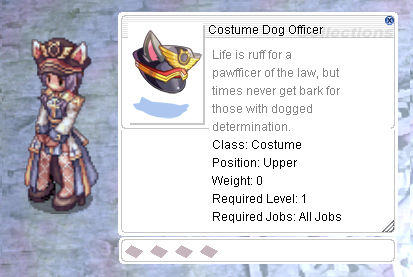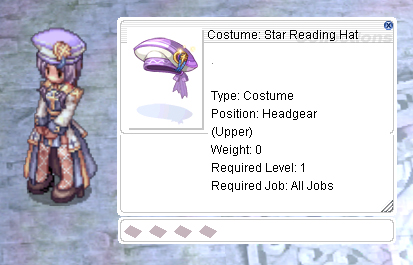 Participation Prize
All qualified participants will receive one participation prize on a character of their choice:

Named Costume Super Cute Dog
Become the most adorable pup with this super cute dog headgear! It will be introduced in game as the prize for this year's Lunar New Year Quest, but by participating in the contest you can get it early AND get it named!

FAQ:
Is Novice considered 'first class' ?
Yes! For this event, at least.
Will Visual Art entries go into the Loading Screen batch for February?
Yes they will, although it is not required to make it loading screen sized.
Are we allowed to have no dogs for the second theme (Young Love between First-Class Characters)?
Yes. Additionally, you are allowed to mix the two themes together but it's not necessary. It needs to be clear which theme you're presenting, though.
Credits: The themes and details of this contest were created by no other than CM Astra. Thanks so much for letting me host this! And an advanced thank you to all the participants, and good luck!
Edited by dawnte, 12 February 2018 - 02:23 AM.