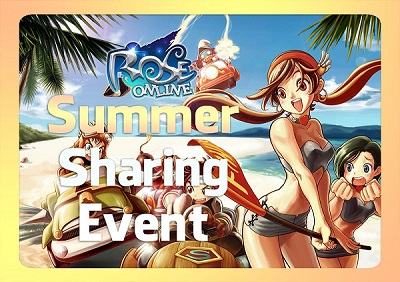 The Summer Share Event has returned and is full of bonuses for all Roserians to enjoy! Starting June 22nd share and play to earn rewards for you and the entire server!
Login using Twitter, Facebook, Twitch, or your email and then complete one or multiple options to earn entries. Remember to use a legitimate email as Grand Prize winners will also be selected!

Grand Prize
30 Days Premium Service
1 Permanent Mount of winner's choice
Mount Booster item (30 Days)
Honor Reward Bonus (30 Days)

Five (5) lucky winners will be contacted through email, so remember to enter using a valid email address! Every entry you submit enters you into a raffle to win the Grand Prize! Grand Prize winners will have one week after the event has ended in order to claim the prize!
That's not all though as everyone is a winner when you submit your entries! Every valid entry submitted will count towards unlocking special prize tiers that will go out to the entire server! Once a tier is unlocked everyone who was logged in during the event period will receive the reward! Check back regularly for additional bonus ways to enter! Make sure to share your summer time adventures in order to win prizes for all Roserians on the Gleam Event Page! The Summer Share Event will end on July 25th!
Entries will be counted on a weekly basis on Mondays at 12:00 PM PDT. Rewards/bonuses will then be distributed as soon as possible. Updates of tiers unlocked every week will be posted here. Additionally check the event page frequently for new bonus ways to earn entries!
Please note that this competition is only available to current players of the Official ROSE Online.
Note: The minimum level to receive item rewards has been set to level 35
Spoiler As of June 25th 3:00 PM PDT the following tiers were unlocked with 661 total entries:
Spoiler As of July 2nd at 12:00 PM PDT the following tiers were unlocked with a total of 1588 entries!
Spoiler As of July 9th 12:00 PM PDT the following tiers were unlocked with 2746 total entries:
Spoiler As of July 16th at 12:15 PM PDT the following tiers were unlocked with 4110 total entries:
Spoiler As of July 23rd at 12:15 PM PDT the following tiers were unlocked with 5400 total entries: