[BUYING]


Premium Necklace of Agnes. The one with +50 HLT/6% CR.


[TRADING]


Fire Guardian Backpack, +2.6% Aim Rate -> Water Guardian Wings, 2+ aim


[SELLING]


Featured items:




*A/W = 4.7kg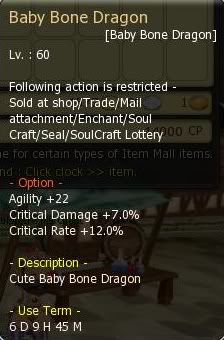 *A/W = 3kg (2day pet now)


[Magicians]


*(Advance) Undead Bone Shoulderguard, Str+11 (Level 60, Priest)
250g


[Thieves]



[Archers]


(Advance) Heirloom Firmament Bow+3, CD+30% (Level 40, PF)
A/W = 400g


[Warriors]



[Misc.]


*Diamonds/Rubies/Sapphire/Topaz/Emerald
3g each


*(Advance) Moonstar Belt, Aim Rate+6% (Level 55)


Various Yeti's Belt(Level 60)


*(Advance) Black Mono Gloves/Shoes (Unisex Cash Set)
400g per piece


*(Advance) Heirloom Moonstar Earring, +5% Aim (Level 55)


*Various Skeleton Bandage (Level 45)


* = Most likely in market.
** = Need to restock/sold out

[Normal][Advance][Special][Artifact][Legend]


REASONABLE OFFERS ONLY!

Also accepting Souls/Insurance Scrolls/Randomizer as payment.[/size]

Mail/PM/Whisper eLime if interested, or search eLime in market.
Edited by Minimize, 12 June 2011 - 05:40 PM.