Whoa, it's April already!
The last FAQ thread has grown and grown, and now it's time to deliver some answers!
Got more questions for us? Let us know in the comments!
Renewal FAQ Friday
4/11/2019
April & May Calendars: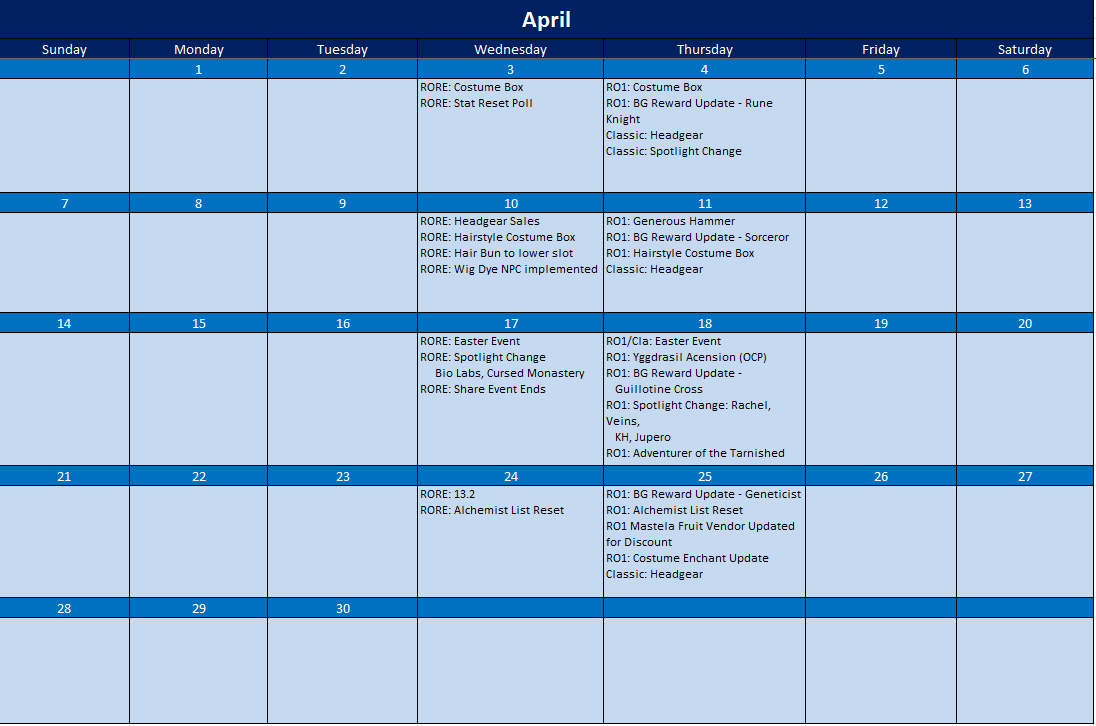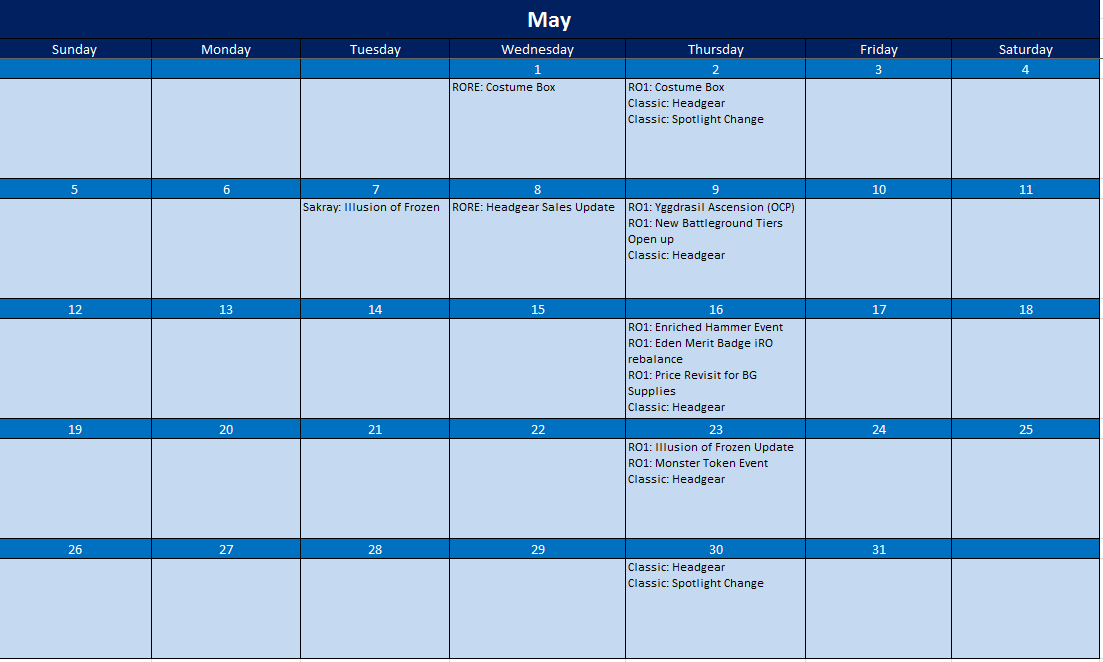 Thanks for the response Campitor.

As for the free marriage thing I had a quest in mind, and some ideas that I'd be glad to share and the zeny involvement too.

Additionally as for Malangdo I had an idea for a quest as well which would really still make it so that people would have to choose between VIP or some long quest/entrance fee

As for the amount of Coins vs time ratio for GMT: You can obtain 110 coins total per single run (should you complete the full instance.)
Magic Reflector and Revised Encyclopedia Cost 900 Coins.
Physical Enhancer Ring and Magic Intensifier Ring cost 1350 coins.

Anti-Magic Suit and Geffen Magic Robe cost 1800 Coins.

9 days to get a single Shield (8.18 days)
13 days to get one of the rings (12.27 days)
17 days to get one of the armors.(16.36 days)
(I rounded up the numbers as it would be the amount of times you complete GMT for one of these)

Now, now all of them may be not be the greatest items but that's the deal when it comes to having OCP. Making these slightly easier to obtain (and enchant in the future) would at least let players feel a progression as they are working towards something better and these gears will hold out till then.

As for Ghost Palace during spotlight, I ran HE BBG buff and i used Steal with my GX inside the instance. I obtained about 90~100 Gray Shards. Today I ran it without HE BBG and If I am not mistaken I obtained about 39~50 grey shards. other times I have obtained about 60 shards should I get lucky on the steals and the drops. Other times I've gone out with 70 at least and maybe the worst day has been about 20. Also consider that not everyone uses Steal.

If you wanna calculate using an average of perhaps 50 shards per run or even with 100(with spotlight) you can have the following scenarios:
4 days maybe even 5 to obtain a single Thanatos Weapon
2-3 days for each piece of Gray Armor
and as for Sakray Knight Card that would be about 200 days for the day. (assuming 50 shards daily, and I mean DAILY.)
I strongly believe the rates for the Thanatos Weapons and the armors are very very reasonable. Enchanting wise, idk what to expect but I can assure you that outsiders LOVE thanatos weapons and the enchantments because it literally become one of the best weapons to use throughout leveling until you reach the point of "I want a +12 Red Twin Edge with 3x AK and the EA6 Enchant" or others. Reducing the amount of shards for a knight sakray card might make more sense than boosting the rate of the gray shard drop. 200 days assuming you do it daily and get at least 50 gray shards a day is way more than it took to get a single abusive robe or flattery robe from 16.1.

EDIT:

I ran Ghost Palace today with a level 122 Geneticist and I obtained 17 Grey Shards, I ran it with basic gear, no Steal Clip (and of course i'd take too much damage, somewhat unrealistic for newbies to try and use steal as a class that isn't flee based) seems quite painful for it not being a higher number. Now, trying to get 10,000 for a Sakray Knight Card, not so sure how much effort new players would wanna take, it feels like the time it'd take is just way too much for anyone who isn't accustomed or understands how this would play out. Thanks for reading. (This isn't really my question for this FAQ, I just wanted to give you numbers based on what I was asking that could be changed as a QoL for new players and attract people to play and not feel overwhelmed by the time it takes to collect instance loot vs how rewarding it is in comparison to OCPs already existing
Campitor: Thank you for the feedback and information!



Giant's Protection

Can we have its full combo includes gaint boot and giant bow?
Campitor: We will request them.



Hi Camp,

Can you also request some new jro mvp combos when asking for missing contents? This will bring back the value of many ET mvps.
Campitor: We will request them.



If i try to organize an event will the rewards be from you guys or do i have to shell it out of my poor poor self?
Campitor: It depends on the rewards and the event. We would need to start talking to figure out what exactly would happen.
Astra: What Camp said! Usually for community creative contests, we provide the prizes as well as perform the judging. For simple in-game events like hide-and-seek or trivia, I provide you with Megaphones and simple prizes to hand out, which can be supplemented with other prizes that you provide. If you're interested in running an event, you can always PM me and/or Camp about it!



Can you bring in the Refine Event Rave next week? Please
Campitor: Currently Shadow Refine and Generous Hammer refine events are active.



could you possibly re-consider applying the discount skill with mastela? i've read in one thread here back in 2017 that it is because its quite "unfair" for slims. but does that really matter now?
Campitor: Yes we can crate a shop on the npc that offers the mastelas at DC prices but only appears with max DC.
what the list monster in spotlight right now?LOL
Campitor: Current Spotlight is Mora and Eclage.
Xealot: Here is the monster list: