Maintenance Notes
Patch Version 0.7.48, Client Version: 10.3.2.16
Server Maintenance
2019-05-15, 12:00 Server Time
Moods for Field Maps: Bearded Whale Coast
The dawn, day, dusk and night moods have been added to Bearded Whale Cost.
Take a look how beautiful the coast will look in the night.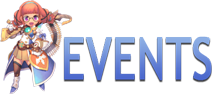 Heirloom Item Event
Monsters are dropping Gold Coins. You can trade Gold Coins and Gada Coins at the Vending Machine for boxes containing different Heirloom Items.
The Event runs until May, 22nd.

Quality of Life Update: Party join and leave Sounds
Sounds are now played when a party member joins or leaves a party. These sounds are played for every party member except for the one who is joining/leaving. The leaving sound is played when a member is kicked by the party leader as well. In that case the player themselves hear the sound too.
This new behavior of playing the party join/leave sounds can be turned off in the options menu. It is saved locally which means that it is turned on/off for all accounts and characters at the same time.
The new option is enabled by default.
13 New Achievements for the Dungeon of Destiny Area
Enjoy getting these new Achievements:

- Ailon Expert – slay Ailon 50 times
- Ailon Master – slay Ailon 85 times
- Jackomo Veteran – slay Jackomo 10 times
- Jackomo Expert – slay Jackomo 20 times
- Firefiend Veteran – slay Firefiend 10 times
- Firefiend Expert – slay Firefiend 20 times
- Karacho Veteran – slay Karacho 10 times
- Karacho Expert – slay Karacho 20 times
- Taiphoon Veteran – slay Taiphoon 10 times
- Taiphoon Expert – slay Taiphoon 20 times
- Destiny Rookie – slay Destiny 1 time
- Destiny Expert – slay Destiny 25 times
- Destiny Master – slay Destiny 50 times