Maintenance Notes
Patch Version 0.7.60, Client Version: 10.3.3.2
Server Maintenance
2019-07-11, 14:00 Server Time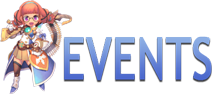 Food Drop Mini Event
Monsters are dropping food boxes when killed which can randomly contain:
3x Breadroll
3x Parfait
2x Slice of Cake
2x Yoghurt
1x Hamburger
1x Juice
The monsters are dropping until July, 18th 13:00 Server Time

User Interface Improvement
Colors, colors and even more colors
Did you ever wanted to have the choice to select not 1 of 20 colors for the chat but 1 of 16.7 million colors? Here you are. Try out the new Color Picker to change the chat colors. Some just want to taste the rainbow but your text can actually become the rainbow now.
With the new color picker you can user-define 10 of your favorite colors out of the whole color palette your PC is able to display.
If you click on a color in the "User Defined Colors" area with the right mouse button, the currently created color is saved to that slot. If you click on it with the left mouse button it is selected for use.
You can even enter the color hex code into the text field to create a color.
The user defined colors are saved for the client (means that every account/character that uses your client has the same user defined colors). But that is not all. The colors you selected for the different chat types (Regular, Trade, Guild, Party, Friends, Whisper) is saved to your config in the same way and even after you re-started, re-logged or changed your character your selected color persists until you change it.
New allowed to use Chat Codes
Everyone of you surely knows about the short-codes to change the color of your text, like #R for Red, #B for Blue etc. To use these short codes is allowed and they are still accessible. We have added more.
With #C0 - #C9 you can change the text color into the ones you user defined in the color dialog, where #C0 is the upper left and #C9 is the lower right of the 10 colors. With #CX you change the text color back to your selected chat color for the particular chat type.
A text could for example look like that:
Hello #C0Dragon Saga #RFriends. #CXHow are you?
Try it out!
And there is one more thing: Bold Text. With #T0 the following text will be shown in bold letters. If you want to write normally again use #T1.
Have fun!
F7 Changes
- RandoBombers have been removed for Parties with only 2 players
- the EXP has been halved for Parties with 3 or 4 players
- the frequence of appearance of the RandoBombers has been increased for parties of 3 or 4 players