Maintenance Notes
Patch Version 0.8.57, Client Version: 10.4.0.17
Server Maintenance
2020-07-30, 13:00 Server Time

Summer Event, Enchant/Soulcraft Success Chance Event
The Summer Event has ended. Unripe Melon Slices can still be exchanged at NPC Yongha for another week. The Enchant and Soulcraft Success Chance Event has ended as well.
Arcadia Grind Event
Monsters inside Expert Modes, Dungeons and Mission Maps starting with Mirinae Sanctuary are dropping Red Coins. You can collect them and trade them at the Vending Machine for:

Spirit of Arcadia Gasha Box
which contains random parts of the white Spirit of Arcadia Event Costume

Power of Arcadia Weapon Box
which contains a Power of Arcadia Event Weapon for a random class

Arcadia Back Item Box
which randomly contains Event Arcadia Back Items

[Event] Arcadia Set of Destiny
the parts of that Event Costume can be directly exchanged at the Vending Machine. The items cannot be traded/mailed to others or sold in the market.
Arcadia-To-Go Balloon
you can get this brand new balloon directly from the Vending Machine. It cannot be traded/mailed to others or sold in the market. It gives +5% Enchant/Soulcraft Success Chance.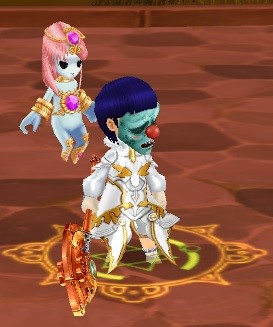 Additionally you can get a Unity Accessory Gasha Box by exchanging Silver Coins. It yields a random Unity accessory item.

The event runs until August 13, 13:00 Server Time.
Bug fixes, improvements and adjustments
- a behavior has been changed that you are now able to click on a character and get it's popup menu even though a pet is standing in front of it
- some old code has been cleaned up and parts of unused code have been removed which might improve your overall game performance
- the Poring Pet now able to use the Teleport Skill
- a visual bug has been fixed for the Forgotten Village where the elevator was unlit for some moods
- the damage output of the first form of Paris at Drakos has been reduced
Item Mall
Evolution Weapons
Get yourself one of the new Evolution Weapons from the Evolution Weapon Gasha Box you can buy from the Item Mall for 80 IM each. The box randomly yields one Evolution Weapon for a random class.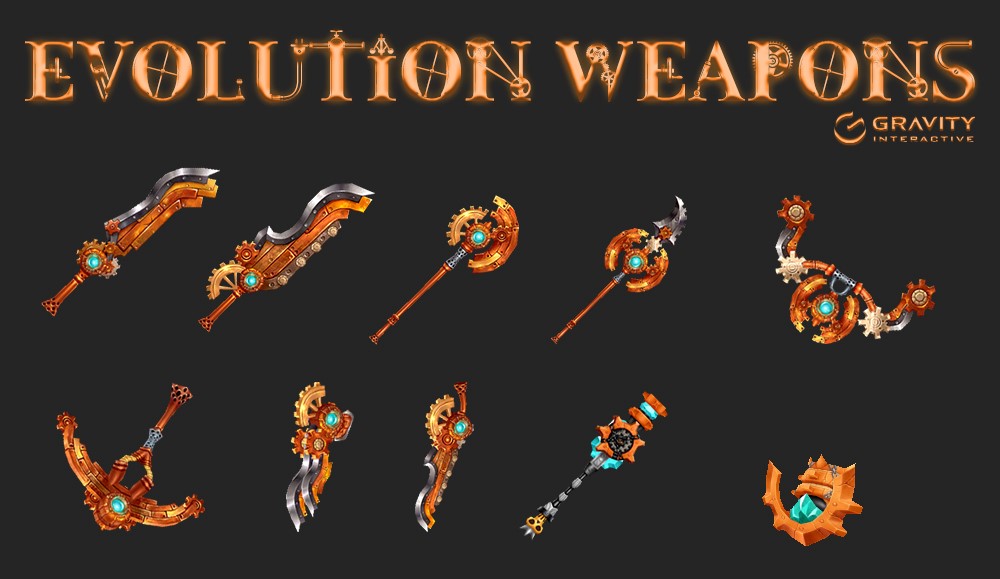 Evolution Sword
Min Physical Attack +600
Max Physical Attack +600
AGI +20
Final Critical Success Rate +3%
STR +20
Movement Speed +15%
Critical Def Break Chance +2%, Amount +3.5%
Evolution Blade
Min Physical Attack +500
Max Physical Attack +500
AGI +20
Final Critical Success Rate +3%
Attack Speed +15%
Movement Speed +15%
Critical Def Break Chance +2%, Amount +3.5%

Evolution Staff
Min Magic Attack +500
Max Magic Attack +500
AGI +20
Final Critical Success Rate +2.5%
Attack Speed +15%
Movement Speed +10%
Critical Def Break Chance +2%, Amount +3.5%

Evolution Spear
Min Magic Attack +550
Max Magic Attack +550
AGI +20
Final Critical Success Rate +2.5%
Critical Damage +15%
Movement Speed +15%
Critical Def Break Chance +2%, Amount +3.5%
Evolution Bow
Min Physical Attack +550
Max Physical Attack +550
AGI +20
STR +20
Final Critical Success Rate +3%
Movement Speed +15%
Critical Def Break Chance +2%, Amount +3.5%

Evolution Crossbow
Min Physical Attack +500
Max Physical Attack +500
AGI +20
Final Critical Success Rate +2.5%
Attack Speed +15%
Movement Speed +10%
Critical Def Break Chance +2%, Amount +3.5%

Evolution Claws
Min Physical Attack +600
Max Physical Attack +600
AGI +20
STR +20
Final Critical Success Rate +3.5%
Movement Speed +15%
Critical Def Break Chance +2%, Amount +3.5%

Evolution Katar
Min Physical Attack +500
Max Physical Attack +500
AGI +20
STR +25
Final Critical Success Rate +2.5%
Movement Speed +15%
Critical Def Break Chance +2%, Amount +3.5%

Evolution Gauntlet
Min Physical Attack +500
Max Physical Attack +500
AGI +20
Final Critical Success Rate +2.5%
Attack Speed +10%
Movement Speed +10%
Critical Def Break Chance +2%, Amount +3.5%

Evolution Gunstaff
Min Magic Attack +500
Max Magic Attack +500
AGI +20
Final Critical Success Rate +2.5%
Attack Speed +15%
Movement Speed +10%
Critical Def Break Chance +2%, Amount +3.5%

Item additions and removals
Removed Water Guardian Weapon Box, Fire Guardian Weapon Box, Nature Guardian Weapon Box, Dark Guardian Weapon Box, Gaia Guardian Weapon Box, Glacial Guardian Weapon Box, Mini Wing Gasha Box, Papyrus Wing Gasha Box.
Added Spiked Wing Gasha Box (80 IM each).
Added Bee Wings Gasha Box (80 IM each).
Added Protector of the Universe Weapon Gasha Box (80 IM each).

BigWheel
White Bikini (female)
Pink Bikini (female)
Chic Attendant Black Uniform
[Best] Tiger-Patterned Hoodie (male)
[Best] Tiger-Patterned Hoodie (female)
Canary Yellow Kid Uniform
Koala Doll
Arcadia Set of Destiny

MixBoard
Fantasy Priest/Pythoness Outfit [Special]
School of Sorcery Uniform [Special]
Red Tyranno Dinosaur Costume [Special]
Colonel Uniform [Artifact]
Crazy Clown Costume [Artifact]
[Best] Arcadia Set of Destiny [Artifact]