This is the first time I've entered one of these headgear contests. So far I only have one entry, but more will be added if I have the time.

Succubus Doll Hat [1]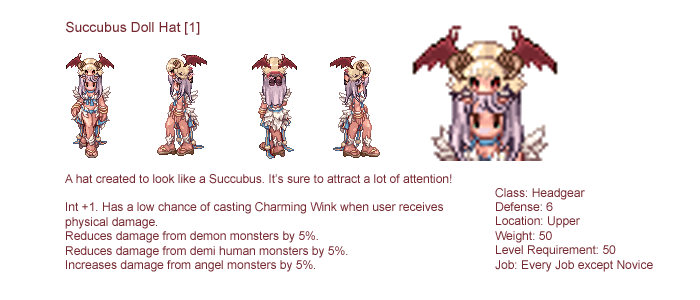 Description: A hat created to look like a Succubus. It's sure to attract a lot of attention!
Stats:
Int +1
Has a low chance of casting Charming Wink when user receives physical damage.
Reduces damage from demon monsters by 5%.
Reduces damage from demi human monsters by 5%.
Increases damage from angel monsters by 5%.
Class: Headgear
Defense: 6
Location: Upper
Weight: 50
Level Requirement: 50 (or possibly even 60)
Job: Every Job except Novice
1 Slot
Edited by Glittercandy, 04 February 2011 - 03:59 PM.