Resubmitting these ideas from the 2008 headgear design event. Hopefully these will make it this time! :3




Hi-tech Headphones

Equip: Middle
Def: 1
Slots: 0
Required level: 70
Job class: All
Weight: 30

Headphones manufactured with the latest technology of Rekenber Corporation. When equipped on your ears, you can hear your favorite tunes playing.

+50 SP

.
When equipped by Bard or Dancer classes, there is a

small chance to cast Bard and Dancer Spirit lv 1 on yourself

with each normal physical attack.


The headgear is animated to show musical notes flowing around/above the character's head. When a character wearing the Hi-tech Headphones faints, the headphones go out of tune and show distorted notes. Could be created via a quest.

Items required: 1 Headset, 1 Electric Wire, 2 Fragment, 1 Orange Dyestuff.
Eric in Geffen has a cousin in the city of Lighthalzen. He sends you to inquire about a new device he has been developing. Eric's cousin Bathaniel Naldwin asks you to bring some items to help him assemble the new and revolutionary invention.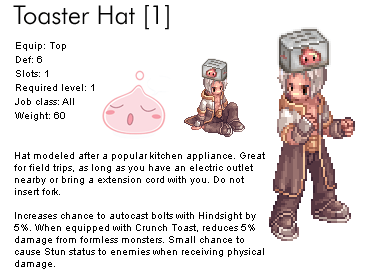 Toaster hat [1]

Equip: Top
Def: 6
Slots: 1
Required level: 1
Job class: All
Weight: 60

Hat modeled after a popular kitchen appliance. Great for field trips, as long as you have an electric outlet nearby or bring a extension cord with you. Do not insert fork.


Increases chance to autocast bolts with Hindsight by 5%

. When equipped with Crunch Toast,

reduces 5% damage from formless monsters

. Small

chance to cause Stun status

to enemies when receiving physical damage.