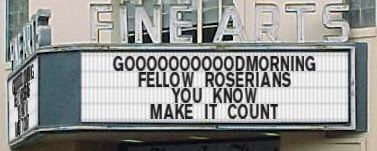 Good morning/Afternoon/Evening to all you Roserians. Another Good

M

orning thread

Hai,
H
ello Roserians, how are you doing today ?
The weather is picking up, its getting sunny again. Hopefully we get a great summer with lots of sun.
Bought myself a nice present in the weekend. The Nvidia GTS 450 1 GB Graphic Card.. Weeee Rose is flying..



Have a goooooooooood day

And a Happy Birthday to

Rescudo
Joke of the Day
· OK, who stopped payment on my reality check?
· I don't suffer from insanity, I enjoy every minute of it.
· Hard work has a future payoff. Laziness pays off NOW.
· Time is the best teacher, unfortunately it kills all of its students.
· Some people are only alive because it is illegal to kill.
· Pride is what we have. Vanity is what others have.
· A bartender is just a pharmacist with a limited inventory.
· Warning: Dates in calendar are closer than they appear.
· Give me ambiguity or give me something else.
· Always remember you're unique, just like everyone else.
· Consciousness: That annoying time between naps.
· Be nice to your kids. They'll choose your nursing home.
· There are 3 kinds of people: those who can count & those who can't.
· Why is 'abbreviation' such a long word?
· Keep honking...I'm reloading
Daily Fact
If both their parents are incapacitated, German children are allowed to vote in national elections.
Have a good one,
Make it Count


Weather Forecast

di
15° | 8°
Edited by KingArthur, 16 May 2011 - 09:20 PM.