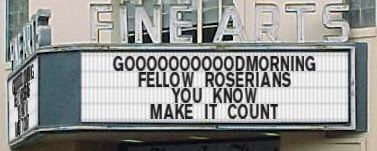 Good morning/Afternoon/Evening to all you Roserians. Another Good

M

orning thread

Hai,
H
ello Roserians, how are you doing today ?
Thursday, the week is almoust ciomming to an end. This weekend we hope to do some more
extensive springcleaning in and around the house. Specialy since next week we are finaly going to buy the house
where we live in



Again lets hope for good weather when we work outside.

I have done (painted) the balcony´s recently on the back side. Now its time for the garden ..

Be on the lookout for tomorrows morning thread. You might be in for a surprise


Cant wait for the real summer to start

Have a goooooooooood day

And a Happy Birthday to

..........
Joke of the Day
Marriage is nature�??s way of preventing people from fighting with strangers.
Daily Fact
Bottled water costs 200 times as much as tap water per gallon.
Have a good one,
Make it Count


Weather Forecast

do
20° | 9°
Edited by KingArthur, 18 May 2011 - 08:38 PM.