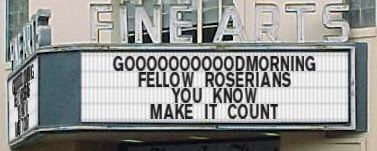 Good morning/Afternoon/Evening to all you Roserians. Another Good

M

orning thread

Hai,
H
ello Roserians, how are you doing today ?

This is the weekend edition
Thank you Naughty for the great return of the Naughty Corner


Yesterday we celebrated Lightguardians Bday (Polarbears son)
he was having some problems to look over the packadge



He was happy with the new pc and Monitor we got him



Cant wait for the real summer to start

Have a goooooooooood day

And a Happy Birthday to

BlackMager
Joke of the Day
It was an extremely rough English Channel crossing from Weymouth to Jersey, and one wretched green-faced passenger
was hugging the rail when a steward approached him. Lunch, sir? asked the tactless steward.

No, thanks, groaned the passenger. Just throw it overboard and save me the touble
Daily Fact
Residents of the Shanxi Sheng region of China consume the most sodium of any people in the world.
The average person in this region consumes roughly 28 times more on a daily basis than an average American.
.
Have a good one,
Make it Count


Weather Forecast, Looking good for BBQ

za
20° | 9°
Edited by KingArthur, 20 May 2011 - 08:46 PM.