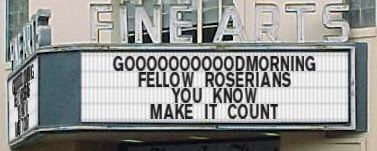 Good morning/Afternoon/Evening to all you Roserians. Another Good

M

orning thread

Hai,
H
ello Roserians, how are you doing today ?
I go back to work again after 2 days sick. The Fever has gone down so it should be ok



On a good note, we finally bought our house last Monday. So yeah we have our own house now

Have a goooooooooood day

And a Happy Birthday to ..
Joke of the Day
A college friend was going to meet a young lady he new.
An old flame? I asked.
He winked and said, More like an unlit match.
Daily Fact
Since 1982 each party has issued instructions to its members regarding at
which point during State of the Union Addresses to clap, to cheer, to stand and to do nothing.
Have a good one,
Make it Count


Weather Forecast

wo
17° | 10°
Edited by KingArthur, 24 May 2011 - 09:16 PM.