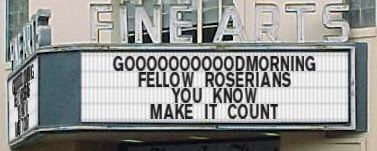 Good morning/Afternoon/Evening to all you Roserians. Another Good

M

orning thread

Hai here is the weekend edition.
H
ello Roserians, how are you doing today ?
I am still feeling sick as ..... everything hurts. An acute Bronchitis is not funny.. You now what is also not funny ...




But, it was funny that i got my new laptop. hp Pavilion Entertainment PC/Laptop... Got to love the boss man for giving me nice presents

Have a goooooooooood day

And a Happy Birthday to LightGardian
Joke of the Day
Q: how do you get a tissue to dance?
A: put a little boogie in it!
Daily Fact
Esperanto is the 43 most commonly spoken language in the United States.
Have a good one,
Make it Count


Weather Forecast

Sat
17° | 10°