As of 6/2/2011, a new Party Search feature has been added to the game to allow players to easily find others looking for a party.
Here is a quick guide on the basic features of the new system:
To access the Party Search UI, you need to select the Party Search option from the action list: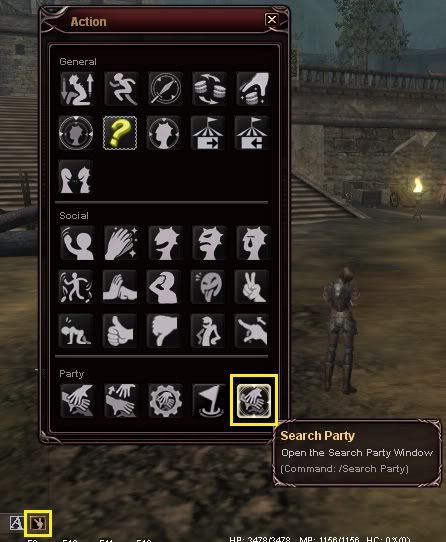 Recruit
Players that wish to start a new party can create a Recruit group which other players can apply to in order to create a party:
1. Select the [Write (Recruit)] option at the bottom of the UI.
2. Select the "Area", "Level Range", "Party Size", and "Content"*
*The "Memo" will be the message that you wish others to see if you wish to use a [Megaphone] to advertise for party.
3. Once the party is created, a "Find Party" window will open allowing the Party Master to [Accept] or [Decline] a potential applicant.
4. Players looking for a party can search the Recruit window for parties already formed by selecting the [Apply] option at the bottom of the UI. Doing so will add your name to a list that the party leader can choose to accept or decline.
5. Double clicking the party will open a private chat with the party master.
6. A player can remove their party from the list at anytime by selecting the [Delete the Memo] option at the bottom of the UI.
Apply
Players wishing to list themselves as available for a party.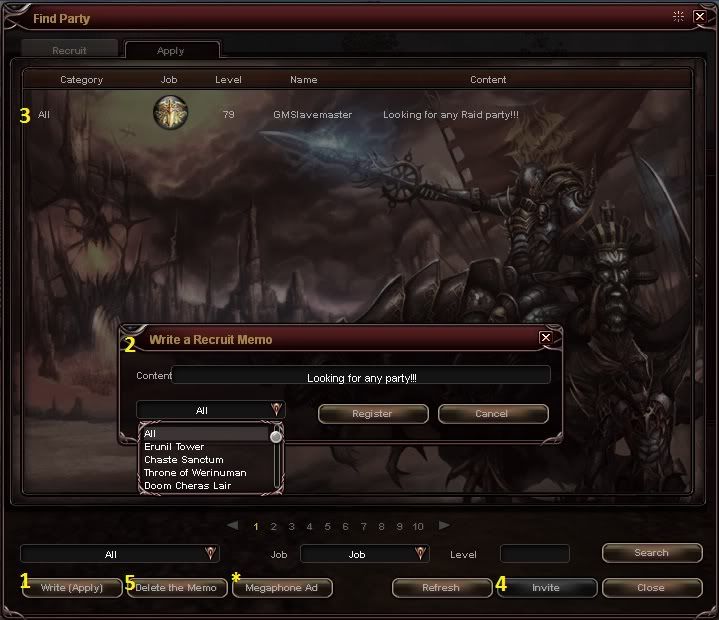 1. A player can sign up to the "Apply" list by selecting the [Write (Apply)] button at the bottom of the UI.
2. When applying, a player can choose which "Area" he would like to participate in and writing a memo* in the "Content" field. (You can only apply for a single area at a time)
*A [Megaphone] item can be used to advertise that you are looking for a party. (This is shown as a notice, I suggest using your Name in the memo so others can contact you.)
3. Double clicking a character's name listed will allow a player to open a private conversation with the player listed.
4. In order to invite a player to a party, select a player from the "Apply" list and choose the [Invite] option at the bottom of the UI. If you are not already a Party Master, a pop-up will ask if you wish to create a 'Party' or a 'Alliance Party'.
5. A player can remove himself from the list by choosing to [Delete the Memo].