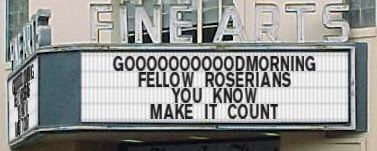 Good morning/Afternoon/Evening to all you Roserians. Another Good

M

orning thread

Hai here is the Monday edition.
H
ello Roserians, how are you doing today ?
Weather in Sweden is GREAT at the moment. So great we had to by a Ceiling Fan to keep our heads cool..
I managed to get that to work together with the new Harmony 1100 controller i recently bought.




Great device, for home automation an get rid of all other remote´s

So wat have you been doing this weekend ?

Have a goooooooooood day

And a Happy Birthday to EvilXCartman
Joke of the Day
I just started a new diet. You can drink all the fruit juice you want, you can eat all the vegetables you want, and you can drink all the wine you want.

So far, I've lost 13 lbs and one driverâ??s license!
Daily Fact
Evolutionary biologists estimate that within the next 10,000 years,
humans will no longer possess canine teeth.
Have a good one,
Make it Count


Weather Forecast

Mon
28° | 13°