*Note*
I dont claim to know what im doing at all...this will just be what i experience playing through. I know people will level faster then me but that is not the purpose!
I have chosen to play the summoner as my new class and will try to post what I find as i go through the game playing. All things tried are just from my own testing other then seeking help from jah about attack speed increases with shaman xspam and snare shot speeds!
Currently Level 32
My current skill build...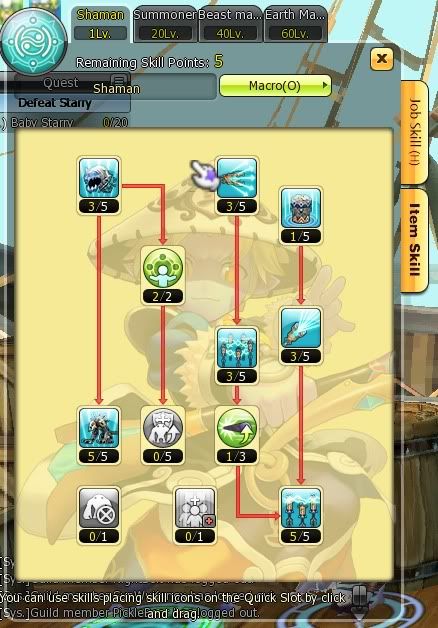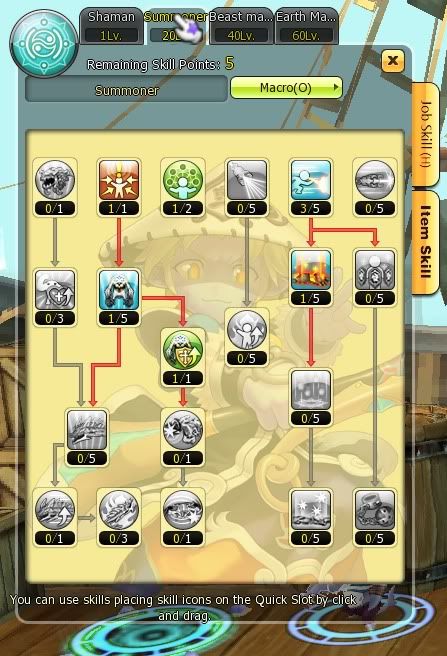 Thoughts on skills...
Shaman
Summon Mist (3/5 for prereq) - I find little use for this, the following summon I found to be much, much better.
Summon Dyke (5/5) - So far I have found this is by far the best low-level summon. Damage scales with yours and has high survivability for low level missions so far.
Summon Mastery (2/2) - I plan on getting all of these to increase the amount of summons I can use at one time.
Dragon Tooth (3/5 prereq) - Undecided about the skill...seems like a less effective multi shot, with a VERY short cooldown.
Spell Trap (3/5 prereq*) - So far the only catch ive seen, great for holding mobs to finish off with Spike Wake, thinking about maxing for pvp to hold longer still need to test.
Stronger Spell (1/5 prereq) - Just added for prereq into Spike Wave.
Ground Piston (1/5 prereq) - Just added for prereq into Spike Wave, hard to hit mobs with.
Air Splash (3/5 prereq) - Added for prereq, only use when someone launches boss and cant hit with anything else.
Spike Wave (5/5) - Main damage skill so far, very long cast time but hits multiple mobs, multiple times.
Summoner
- This is alot of testing for me, added to skills to see how effective they are.
Gather! (1/1) - Recalls summons back on top of your character, very helpful if they get away from you.
Summon Doonamik (1/5) - Dont get it. Stick with the Dyke its best by far.
Strong Leather (1/1) - Prereq.
Steal Crow (1/1) - Adds a damage skill to Doonamik, will add to this next level up to test.
Advance Summon Mastery (2/2) - More summons the more better.
Inferno (3/5) - Very Good damage to stunned groups or groggy boss, 3/5 to advance down skill chain.
Volcano (1/5) - added to test, very poor skill, acts like old warrior WoE, will continue down chain to test others.
Meteor Rain (1/5) - Re-skinned blizzard, decent damage good to fill on mobs.
General Info

:
I always run with 2 Dykes as of level 28, they are by far the best i have found. They have knockdown skills and a multi hit skill.
Mobbing

:
My strategy so far is to lock mobs with Spell Trap, then kill with Spike Wave. So far have not come across a group that doesn't die in 1 cast.
Bossing

:
My strategy so far is to lock the mobs surrounding the boss with Spell Trap then kill the mobs with Spike Wave. When the mobs are dead you can Gather your summons onto the boss and begin x-spamming him while the cooldowns refresh until you can start to "groggy" him/her. When the boss Becomes enraged and starts gaining "groggy" I cast another Spike Wave onto him and x-spam until they are dazed. When the daze happens I inferno until dead.
Gear
The only thing I can say for gear is get the aqua weapon as soon as you can. It is FAR superior then what you will find until after level 40. Enchat up to +4-5 if you wish although 2g+ per try is expensive for new characters.
That is all for now! I will update regularly as I find new information about the class out

Edited by MicoJive, 04 September 2011 - 01:47 PM.