Kitty's Muse/Cleric Guide
Update: Dec 19 2008 - UI, ToC, additional info in dex cleric section
Update: Dec 26 2008 - SEN Cleric Section revised, skill tree updated
Update: Jan 7, 2009 - Updated Supportive and Cleric skill tree to reflect v197
Update: April 13, 2009 - Added a new section on how to get max INT gear, deleted some useless info
Update: December 29, 2009 - Updated stats/build information to reflect v253.
Update: December 30, 2009 - Updated Skill tree descriptions to reflect v253
Table of Content
Introduction
The basics - Weapon, Gear, Partying
Stats
Builds
The SkillsCommon Skill Tree
Supportive Skill Tree
Offensive Skill Tree
Cleric Skill Tree
Item Mall Skills
Unique Skills
What skills should I get?
Frequently Asked Questions
Muse item drop locations
Gems
Credits/Contributions/ThankYous[/list]
Introduction to Clerics
Level 1-9: Visitor
Level 10-99: Muse
Level 100-215: Cleric
---
-Level 10 is first job
-Level 100 is second job
-Level 215 is max level
The Basics
What weapon should you be using?
A Wand and a Magic Shield / Shield
Here is a link to a list of all wands available in naRose:
http://rosena-wiki.org/wiki/Wands
- Staves may be used by muses/clerics except to cast all buffing skills under the cleric skill tree.
- Unequipping/switching a weapon will cancel all buffs except: HP/MP up, Movement speed up, Defense up and Dodge up.
- All normal wands requires a specific amount of INT and level for one to hold it.
- The only condition for holding a Unique is INT which is indicated on the item.
- Unique weapons are upgradeable with refining item called 'Ancient Scarbs' (10 per refine grade).
What should you be wearing?
When you start off your muse, don't worry too much about what you are wearing. You will level pretty quickly to outlevel your gears in a few hour training time. Save up your money for second job gears and gems! As for what to wear, pick up all blue drops from monsters and wear whatever you get. For armor information refer to:
http://rosena-wiki.o...iki/Muse_Armors
Partying
-Partys can contain any character from level 1 through 215 (Max Party Size: 6)
-Party EXP Share can be enabled when all members of the party share no greater of a 20 level difference
-EXP yield increases as the party levels are increased
-EXP Share rates increased for partys (ie: the more people in party the more exp yield is possible)
Stats
The following calculation is for wand users:
STR [Strength]:
+ 0.33 Defense
+ 2 HP
+ 6 total weight
DEX [Dexterity]:
+ Approximately 2 Attack Power for every 3 DEX
+ 0.75 Dodge Rate
INT [Intelligence]:
+ Approximately 2 Attack Power for every 2 INT
+ 0.6 Magic-Defense
+ 4~5 MP
CON [Concentration]:
+ Accuracy
+ 0.2 Critical
CHA [Charm]:
Do NOT add this.
SEN [Sense]:
+ Small amount of attack power
+ 1 Critical
The max amount of stat you can have is
400
excluding the additional stat from gems/items.
Builds
Why INT?
This is your primary source of attack power for wand users.
INT affects your buffs and the total amount of MP you have. The more INT you have, the stronger your buffs will be. However, note that your buffs will not be significantly stronger by adding 1-2 more INT. The difference is more noticeable by 50s and 100s.
Why DEX?
This is your secondary source of attack power for wand users. It also adds dodge.
Why SEN?
Adds very little amount of attack power and influences Critical rates. In PvP it will help reduce receiving a critical attack.
Why CON?
Any class that wants to hit anything in game must have CON to increase their accuracy. A general rule in every class is to put CON equal to your level. For example, if youâ??re level 60, you should have about +-60 CON. But wait, I don't have 200 CON just because I'm 200. You may need more or less. Use your sense and see if you need more CON by observing the performance of your character. Go hit a yellow color named monster and see if you miss a lot. Your accuracy depends on the weapon you are using and the amount of CON you have. When you buy your weapons, try to aim for 90+ durability as they give better accuracy on weapons. NPC items tend to have lower durability compared to crafted ones, which can yield a durability of 100. Refining an item will also increase accuracy.
Suggestions
Using these four stats, create your own build. Use Rescudo's stat calculator to plan ahead. These are just some of my suggestions. The choice is yours - you do not have to follow a certain build - this is just to give you a general idea. Give and take some stat points and make your own build. I really like the High AP build as I've always been a fan of SEN clerics. The changes in v254,255,256 are not set in stone so please don't make hasty decisions.
Support [lvl 215]:
-400 INT
-175 DEX/STR
-140 CON
Your goal is to max INT. Although INT doesn't really make a huge difference in buffs anymore, it still makes a difference. If majority of your time will be spent on supporting a party, INT should always be maxed. As for the rest of the stats, one would only be able to make up for a maximum of 223 stat points into either DEX or STR. DEX gives a good amount of attack power so it'd be helpful to add in some CON to make use of DEX, in order to hit monsters/players. If you don't engage in attacking monsters/players at all, adding rest of your points to STR would be the best choice for additional defense.
High Attack Power / PvP [lvl 215]:
-360 INT
-235 DEX
-60 SEN
-150 CON
This build yields high attack power, since it uses up majority of points from INT and DEX. Pouring all points into INT is not a good idea because a stat becomes more expensive as it goes up. 333 INT should be a base for this build since that is the requirement for holding an Amazing Brush. DEX should always be lower than INT, yet at least two times higher than SEN. SEN does not give a good amount of attack power anymore - so invest a cheap amount and don't go overboard. A good amount of CON is needed for PvM/PvP.
High Accuracy / PvP [lvl 215]:
-356 INT
-200 DEX
-65 SEN
-200 CON
If you miss a lot, 200 is a good amount of CON to invest into.
High Dodge [lvl 215]:
-400 DEX
-223 INT
The goal is to have a large amount of dodge so pour all your points into DEX. Requirement to hold the Oblivion unique wand is 223 INT exactly. Basically equip all DEX/Dodge gear available in game. Theoretically, this build would work if dodge worked properly in game in PvM and PvP.
The Skills

Skill Points
Every level, you get a skill point starting level 10. You have to use it wisely because you canâ??t undo your skills unless you buy the skill reset book from the item mall.
*Note 1: All skill description below shows a skill at its maxed state.
*Note 2: Upgraded status value may be different on your character since they are affected by the amount of INT you have.
Common Skill Tree
Skill Skill Description Comments
- images snipped -
Supportive Skill Tree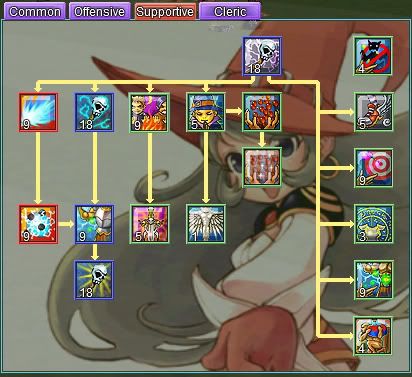 Skill Skill Description Skill Skill Description
- images snipped -
Offensive Skill Tree
- images snipped -
Spell Mastery -
Getting this skill comes down to whether you want faster MP recovery rate or more Max MP. Let's compare. Spell Mastery level 9 gives you Max MP 900 + 10% Max MP. If your muse has 2000 MP, you get 1100 extra MP. Let's look at Meditation level 9: you get 10% Max MP + MP recovery rate 10. In this case, you will only get 200MP. For Clerics, Chant Focusing level 9: you get 10% Max MP + MP recovery rate 50. It's up to you but I personally recommend getting this skill over the other because extra MP is always good. You can also recover your MP fast enough with 2 bonfires.
Spirit Boost -
Don't get. For staff users only.
Cleric Skill Tree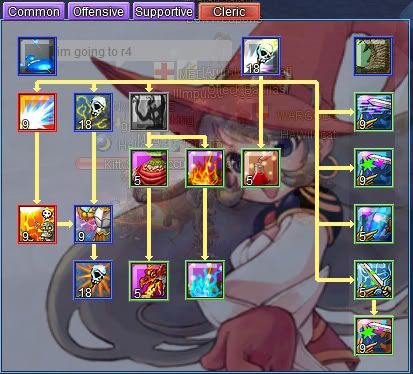 Skill Skill Description Skill Skill Description
- images snipped -
Item Mall Skills
Item Mall skills will not use your SP.
Skill Skill Description
-Useful for Attack muses
-Useful for Attack Speed muses
Soul Recall (image snipped)
-Displayed as Soul Recall in item mall but it's actually called "Soul Restore" in game. Some sort of a bug. This is the one that recovers 70% of exp.
Unique Skills
(Unique skills use your SP)
Soul Recall - Not worth it. You need to level up Soul Revive to level this one up. Just get the one from item mall if you care about recovering exp. Otherwise, Soul Revive level 1 is sufficient to res.
What skills to get?General Support Cleric:
Meditation 9
Cure 5
Spell Mastery 9
Purify 4
Wand Mastery 18
Bonfire 9
Recovery 5
Party Heal 5
Integrity 5
Hustle Charm 5
Precision Charm 9
Resilience Charm 9
Wallop Charm 9
Blessed Mind 4
Chant Focusing 9
Magic Battle Mastery 18
Summon Mastery 4
Salamander Flame 3
Mana Flame 3
Heavenly Grace 5
Battle Charm 9
Critical Charm 9
Evasive Charm 5
Clobber Charm 5
Valkyrie Charm 9
Other optional skills:
Soul Revive 1
Restoration 5
Soul Doubt 5
Mana Drop 9 + Mana Wave 9
FAQ
Skills
Q: Do meditation, spell mastery, chanting focus, and blessed mind all stack?
A: Yes.
Q: Do I have to choose between Meditation and Spell Mastery?
A: No. You can get both, one of them, or none.
Q: Which Resurrection skill should I get, there are three of them!
A: Get the one from item mall (Soul Restore) if you really care about recovering exp. Otherwise Soul Revive (the one on muse skill tree) is sufficient to resurrect. The unique skill one (Soul Recall) is pretty much uselss.
Q: I can't find Soul Restore in the item mall. All I see is Soul Recall.
A: They haven't updated the picture in the item mall. If it says it will restore 70% on the item description, that's the one. The item is called Soul Restore in game.
Q: Should I get summons?
A: Summons will eat some of your exp.
Q: Can you socket/drill your muse shield?
A: No.
Muse item drop locations
Legendary items are found from boss/king type of monsters. Please contribute if you know more!
Item Monster Map
Legendary Violet Gear Jewel Golem George of Silence
Legendary Shadow Gear[Lv85] Jewel Golem Gorge of Silence
Legendary Heaven's Bonnet and Shoes Tyrant Warship Arumic Valley
Legendary Mysticwear Set Grand Gem Goblin B3, Caves
Legendary Velvet Gear Dreadnaught King Crystal Snowfield
Legendary Serenity penguin commanders Mana Snowfields
Legendary Dimple Gear Pincer Queen Xita
Legendary Anima Staff Jewel golems Gorge of Silence
Legendary Conjurer's Wand General Penguin Mana Snowfields
Gems & Jewellery
There are 20 different types of gems available. Refer to
RoseWiki
site for detailed information about each gem.
Credits/Contributions/THANKYOUS
- Narose Wiki for skill icons
- Nanami for corrections and additional information
- ShadowDjinn, Pokka, Confused, Psi, Karen, lHeXeHl