Spoiler Updates


To Start off a wise Kitten said something that I had to make sure I put in here,
"If you have ability, experience and patience you can do more with the "basic" tools than someone lacking in those qualities could with the "professional" ones." ~Kitten
Remember to keep this in mind if you are new to the digital art scene. Whatever tool you choose you will have to master to make your art better.
Also that going digital has a ton of advantages but its just a new art form that you have to practice and learn techniques for.
This thread is only to help you find the right tools and resources for you to use.


Things to keep in mind while looking at these programs.
1. How much you are willing to pay.

(note to self to add in link to free programs links)
2. How many tutorials are out there.

In the "list of programs" below I have ☪ next to the more popular programs. They have more tutorials
3. What you are wanting to accomplish

If the program allows you to animate/record/etc
4. Much time you want to put into learning a program.

Which ever program you pick, it will take time to learn that program. You will have to put time and effort into it. If you pick one, then stick with it till you got it down
5. How powerful your computer is versus the software you want to run.

Basically all these programs will run on just about any computer made in the last ten years. The more layers, effects and things you have open in the program take more memory and processor power. Adobe Flash for instance can be a huge hog of memory when your working on things.



Program List (being updates soon 02/28/2016

Photoshop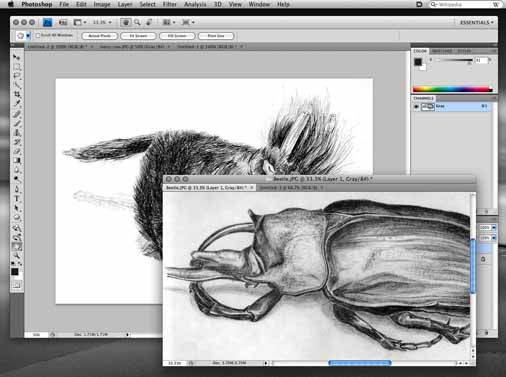 Dev. by Adobe Systems Incorporated, Site here http://www.adobe.com.../photoshop.html
Cost: Heart Attack ok to be honest I like having the newest version of photoshop because this is the program I know the most. Now you can rent this program month to month for about 20$ But the starting price of buying the newest program Photoshop CC is around 1000$. ......ok you awake from fainting yet? Ok not the price for last years Photoshop CS4 is around 350$ oh I bet you see where I am going with this. If you are paying for this program look around. After CS2 they havent added a TON of new features for the artist. CS2 has great set of new things that older versions didnt have. Also dont forget Super Tip #1
This program has a ton of uses and you can basically think of Sai and such being the basic program of this. This program has such things as allowing you to automate tasks. Also you have highly customizable options for brushes and everything else.
note to self to update with links to cheaper or free photoshops


Corel Painter X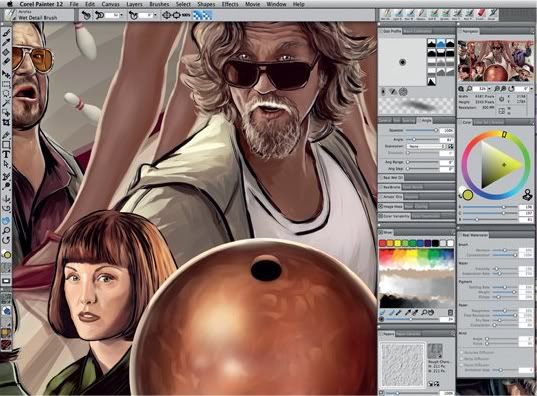 Dev. By Corel Corp. Site here http://www.corel.com...languageCode=en
Cost: Free Trial, then around 400$
My super classical art program. This emulates so many type of media its crazy. You have everything from watercolors to oils. So you can see how this program is really special for artists. This program is highly used in other countries other than America. Most of the magazines for this program come from other countries.
I suggest this and Art Rage to people who already have a history using classical media. The developers of this program put a lot of time into making the media act the same way it does in real world. But being digital if you mess up your a click away from correcting it, Mixing media, or even just using traditional in ways that you never thought of before.
note to self to update with links to cheaper or free copys
Open Canvas 4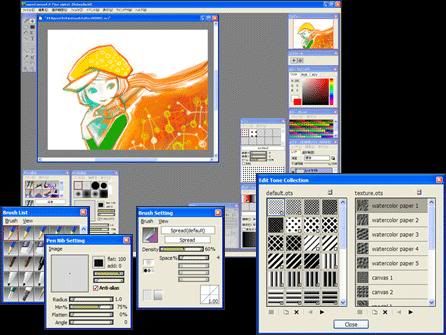 Dev by Portal Graphics, link to official site http://www.portalgraphics.net/en/oc/
Cost: Has a free trial for you to test out, after that it is roughly 75$ American
Open Canvas 1 (best thing about this old program is the ability to link up in the program with someone else and draw together)(also free)


Link to Dl . http://sites.google....?attredirects=0
How to switch it to english- http://wistinga.online.fr/opencanvas/
Explaination of that I had found on deviantart. http://pixieface.dev...part-1-50415876

Sai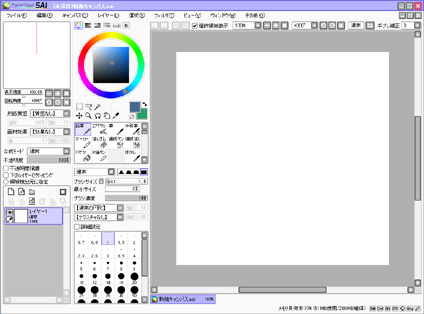 Dev by Systemax, site here http://www.systemax.jp/en/sai/
Cost: Free 31 day trial, Then roughtly 70$ American.
Since I posted this 5 years ago sai has become my go to program for art. It has EVERYTHING you need for a low cost. Great program to start out with. The lineart pen is a miracle for new artists.
note to self to update with links to cheaper or free copys. I think there is a free sai 2.0 on the website also

Art Rage


Dev by Ambient Design, site here http://www.artrage.com/artrage2.html
Cost: $19.90
This program is great for traditional artists that have painted and such coming to the digital world. This program and Corel Painter (below) emulate real world paints and such. I use this program to speed paint for practice, its just smooth and nice.
I think I have a free trial somewhere on my comp, ill try to upload it. If someone knows a trial hosted online, hit me up so I can add the link.


Adobe Flash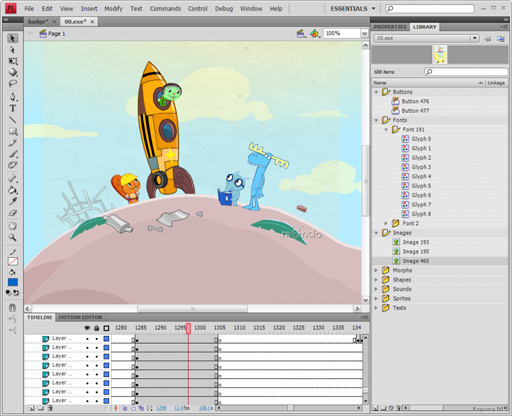 Dev by Adobe Systems Inc http://www.adobe.com...ucts/flash.html
Cost: Around 300$


Gimp


Dev by The Gimp Team at http://www.gimp.org/
Cost: Free


Manga Studio/Comic Studio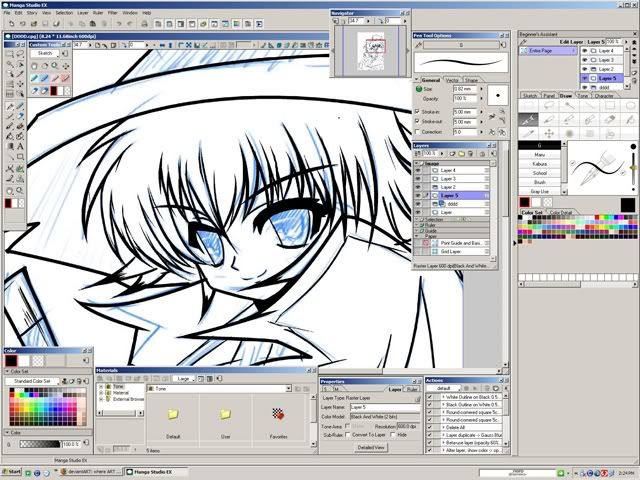 Dev by Smith Micro Software
Cost: $300 at http://manga.smithmicro.com/ms_ex.html


~*~*~*~*~*~*~*~*~*~*~*~*~*~*~*~*~*~
Art Program buying tips:
1. Maybe buy an older version of the program you want. You wont have all the features but it gets you going.
2. See if the program you wants comes cheaper if you are upgrading from an old version, if so look up whats the oldest version that allows you to upgrade from. Then buy that really old program.
Dont forget Super Tip #1 Hit up your local college art departments. A lot of colleges have free shareware versions of these programs that sometimes they dont mind giving out to aspiring artists.



List of Art Programs
((The ones with ☪ are used by most professional artists that do art for a living. Also means there are tons of tutorials for these programs))

☪Photoshop - http://www.photoshop.com/
☪Paint Tool SAI - http://systemax.jp/en/sai/
☪Corel Painter - http://www.corel.com....id=prod4030123
SketchBook Pro - http://usa.autodesk.....&siteID=123112
Artrage - http://www.artrage.com/
Oekaki - Various art boards.
FireAlpaca - http://firealpaca.com/
openCanvas 1.1 (Network) - http://wistinga.online.fr/opencanvas/
openCanvas - http://www.portalgraphics.net/en/
MyPaint - http://mypaint.intilinux.com/
GIMP - http://www.gimp.org/
Artweaver - http://artweaver.de/
Paint.NET - http://paint.net/
PaintShop Pro - http://www.corel.com....id=prod4900067
Animation
☪Flash - http://www.adobe.com...ucts/flash.html
GraphicsGale - http://www.humanbalance.net/gale/us/
EZToon - http://www.truploader.com/view/009556
ToonBoom - http://beta.toonboom.com/
Giotto - http://vectorian.com/giotto/
Vector
Illustrator - http://www.adobe.com...llustrator.html
Inkscape - http://inkscape.org/
Xara X - http://www.xara.com/us/


3D
☪Maya - http://usa.autodesk.com/maya/
☪ZBrush- http://www.pixologic.com/zbrush/
☪Blender - http://www.blender.o...ad/get-blender/
SoftImage - http://www.autodesk.com/softimage
Lightwave - https://www.lightwave3d.com/
Marmoset - http://www.marmoset.co/
Unreal Development Kit - http://www.unrealengine.com/udk/
Unity - http://unity3d.com/
CrazyBump - http://www.crazybump.com/
xNormal - http://www.xnormal.net/1.aspx
3DSMax - http://usa.autodesk.com/3ds-max/
Mudbox - http://usa.autodesk.....&siteID=123112
Messenger
Tegaki Messenger - http://tmsg.pipa.jp


Collaboration
iScribble - http://www.iscribble.net/





How to Choose the right Digitizer Tablet for you.

Strokes matter
Do you use Brood long strokes when you draw?
This mean you really need a larger tablet compared to your hand so that you wont have to get over any change in HOW you draw. This mean starting out you have to buy a larger surface area tablet. (as in a 6x8 active area tablet)
Do you use Short little strokes when you draw?
Oh cool then, that means you can get away with a cheaper version and smaller one.

Dont let anyone scrub the small ones. (personally I hate them) But I know some American comic book artists that use the cheap Wacom Bamboo (65$) one from Best Buy. Larger area ones will cost you more than the small ones for a good one.

Now note there are many more out there than just from the company Wacom. So shop around.
A lot of them now come with tons of functions too, like extra buttons to quickkey brushes and actions.
How big is your monitor?
Wierd question huh?
Ok there are two ways to set up your tablet.

This is the defualt setting of a tablet. The active area is your entire screen. So when you put your pen on the tablet in the upper left corner. Your cursor on the screen will be in the upper left corner. I use a large tablet so its not a problem. But if you have a LARGE display and a little tablet, you will notice that your when you move just the smallest bit on the tablet, you are drawing a large long line on the screen. sooo....

People do this. They change the active setting to a certain portion of their screen. That way you aren't making strokes that are way out of the normal limits. So keep this in mind.
Do you have a heavy hand?
That means do yo push down hard with the tip of your pen or pencil when you draw.
With the pen that comes with the tablet it has a little nib at the end, if you are heavy handed you are going to have to learn to not push down hard, you will just either wear down the tip or break the pen. Replacement tips arent very expensive but if you are having to order them often it might become something to be aware of
Choosing The BEST Tablet
Size (Active Area)

As I told you earlier why the size matters. But to explain farther, this area in the middle is your active drawing area. So judge accordingly.
Sensitivity (Pressure Sensitivity)
The higher the better. 2048 seems to be the standard in most now. This is so you can alternate between large and small lines. The higher the sensitivity the better line quality with your pressure you will see.
Pen Tilt Range
This allows you to hold your pens at angles and create more effects. Kind of like calligraphy. You can change the angles of your brush in game.
Nib Replacements
Most the new tablets your nib (the tip of pen) will eventually wear down. Make sure whatever tablet you buy allows you to replace the nibs. That way your not just having to buy a new replacement pen for it.
Warrenty
Well thats enough said. Anyways I like to have a warrenty on anything expensive I buy. That way at least I can have it fixed if something happens to it or there is a technical flaw.
Technical flaws happen from time to time with anything, so its good to have a warrenty if you are unlucky enough to get a bad chip or something in it.
Extra Buttons and Features

In this picture you can see that some tablets have buttons. These are generally fully customizable. So you can set up brushes fast, or even with photoshop you can set up actions (like when I click mine it creates a new layer and sets it as the active layer)
1. Pen Displays
These can be rather expensive but you are able to draw directly on the screen of what you are painting. If you can afford one of these I highly suggest you go this route. They are amazing and such a close link between classic art and digital.



The top of the line one that everyone compares everything to is Wacom Cintiq.

I am going to make list in order of price and give a few pros and cons of each for you later.


Other: Wacom Inkling
http://www.wacom.com...ts/Inkling.aspx
Yea I would just avoid this to be honest. Its expensive and for the same price you could get into a lot of other better gear.



TUTORIALS


☠☠☠Warning☠☠☠ – Some links may be NSFW (not safe for work), I will try to go through the list as I make it and update it and put the NSFW next to the ones that may be risqué. Most people need to understand that art references may have nudity and most offices don't differentiate between nudity and sexuality.

New artists: I thought I would point out to you something that was brought up in another thread. You can have all the tools in the world and books stacks next to you, but it takes practice to learn how to use them. Dont get overwhelmed by the sheer number of tutorials. Some of them are for certain styles or to help with learning certain techniques or theories. Make yourself goals for your improvement then seek out tutorials to help you improve on that goal. Practice. Create a sketchbook thread in the forum and ask for feedback. Tell them what you have been practicing and you will get feedback about that technique. If you dont ask in there people will think you are using it as a second gallery like a lot of people are using it for right now.



Art Videos
There are links that I think any digital artist should explore that wants to become better.

1. http://www.ctrlpaint.com/
Ctrlpaint.com is an amazing site. This a great starting place that goes over ALL the basics in short tutorial videos for FREE. Basics are important for a reason. The foundation of how you build your art is what makes the difference between an "ok artist" and that artist everyone admires.

2. https://www.youtube.com/user/KienanLafferty/videos
Kienan is a great guy and a professional artist. It wont take long for you to realize that you have already seen his art on a major game. Look through his videos and go way back to the beginning of them and work your way up. Even him just doing the videos he has grown even more as an artist and he shares tips with you that will make you a better artist in the long run. He uses photoshop but most of what he shows can be used in any program.
Basics
Drawing the female body video tutorial
Proportions of the female body
Proportions of the male body
Children and Teens part 1 http://www.youtube.c...D4C899&index=79 part 3

How to draw NECKS!

Upper Back
Arm / Forearm
Upper Leg
Legs by McFarlane

Hands and Fingers

Feet 1 and feet 2
Feet and Hulk Feet by McFarlane

Eyes by McFarlane
Ways to practice
Drawing what you see by Sycra -
NSFW-nudity Video - This set up is a great way to practice
Color Theory
Good Info
Making it easier
Balance the colors
Mixing
More Mixing
Mixing for flesh ----works in programs

Intermediate
Crosshatching
Negative and Positive Space
Sedate Alert Dynamic
Rule of thirds
Scale
Odd Numbered Elements
Leading the eye
Tips for fight scene

--Sketching
Sycra Tut
Drawing Interesting Poses
Drawing poses with purpose


Advanced and Workshops

Genzoman part 1 -- Great video taking you through the entire process
Genzoman part 2 -- Ditto

Great Paint Tool Sai Tutorial Video

Amazing Painter Tutorial part 1
Amazing Painter Tutorial part 2

Peter Mohrbacher's Photoshop Tricks

Gnomon Workshop Training -- Amazing Pro Artists giving you step by step instruction. Free videos are great, Bought ones are worth it but expensive.
Youtube Channel
Other Youtube video 1
Other Youtube video 2
Other Youtube video 3
Other Youtube video 4
Gnomon Site

Art Videos by Nicholas Kay - I have learned quite a bit from watching his things. I hope you learn a lot also
NSFW Warhammer
Warhammer 2
Curious Drake
Warhammer 3

Imagine FX
Personally I own a few of these magazines and when I found out they had FREE youtube videos I was amazed. The mags use painter a lot but are full of tutorials. After finding out they finally have a website and ship over here directly for a good price I am going to start a subscription.
Amazing Website - with tutorials
Youtube tutorials

FZD School of Design -Need First Hand Info? (please) -
Website - Has classes and WORKSHOPS , now ok I have heard of this site but I cant think of anyone that told me about it. Not sure on the costs and such but youtube has free videos
Free Youtube - Great Advanced Tutorials and videos to watch and learn new tricks to add to your artistic bag of goodies.




Anthro/Furries
Here are a few things to help you get going after you got your basics down.

Photoshop Walkthrough for Beginners by Kaytothelink
Sai Lesson by Koul2078
Anthro dogman by Sycra
A tron furry by Avyris
Dog paint by Yena -
Wolfies123 - inking process
Head by Rena
Bloody Dog by Kaytothelink
Art Tutorials non video
✰Basic Foundation
Anatomy of by Stan Prokopenko
Drawish Resources - free figure drawing resource that also has articles highlighting certain points of anatomy

Light and how to use it -- light

DA Link - Moni's Anatomy and Drawing Tips
DA Link - Nice little flash tutorial

Practice your poses for human and animal

✰Perspective
DA Link - part 1 -great guide to Perspective and Composition
DA Link - Part 2

✰Anthro
Awesome with the anatomy break down and anthro tips
Animal joints -Great for animating, and to know the movement structure for drawing

Canine
DA link - Jaekilo Guides and pictures - good source for reference

Feline
DA link - TamberElla Guides - This helped me a lot- Still using this for reference

Tauren
DA link - Shalinka Tauren guide

✰Background


✰Color Theory
FA link - Fun interactive guide

http://colourlovers.com - Palettes, patterns, things for inspiration and practice
http://www.isdntek.c...ernetcolors.htm - Color blending
http://www.w3schools..._colormixer.asp - Color blending
http://meyerweb.com/...ls/color-blend/ - Even MORE color blending
http://colorschemedesigner.com/ - Designing color schemes of all kinds
http://www.colorsont...colorwizard.asp - Color schemes
http://www.livepaint...m/gamutmask.php
http://www.pictaculous.com/ - upload an image and this site will spit a palette for it at you
Another Color Scheme -

http://www.colourlovers.com/ -- color pallets
http://colorschemedesigner.com/ -- color pallets





All encompassing sites
GREAT place to start out

Harrie has compiled his own site with a HUGE number of tutorials, really worth a look
http://ctrlpaint.com/library/
http://androidarts.com/art_tut.htm - massive general art tutorial
http://enliighten.co...gory/tutorials/
http://hippie.nu/~unicorn/tut/xhtml/
How to Digital Paint - A repository of digital painting tutorials.
Artist that has extra tutorials


Program Tutorials

✰Sai
Intro to Sai Coloring Video
Great Paint Tool Sai Tutorial Video

✰Photoshop
--brushes
http://theroundtable....till-required/ - free to download photoshop brushes

✰Corel Painter
Setting up Painter


Community Canvas Sites - Sites that allow you to draw with other people at the same time
Art Grounds
iScribble

J-tablet - Quick install to allow your tablet to have pressure sensitivity in flash


Texture Resources
Cgtextures - large texture database, many open source
Lost and Taken - blog of textures
Mayangs free texture library - good resource for a lot of misc
Texture King - Good realism textures

3d.sk - $$$ - need more info on it


Image Resources
http://grimace-project.net/ - simple facial expression tool
http://www.human-ana...for-artist.com/
http://www.female-an...for-artist.com/
http://www.lovecastle.org/draw/
http://www.pixelovel...guredrawing.php
http://www.posemaniacs.com/
A tumble image resource -
A Reddit!! image resource - wow reddit has something useful!!!


Pose Practice
Quickposes - A timed gesture drawing tool.
Life Drawing Poses - Warm-up pose sketching videos.
AlienThink's Pose Tool 3D - A 3D pose tool for mobile apps.
Belief Engine's Handy Art Tool - Another 3D pose tool for mobile apps.
Posespace - This one has photos in crazy high resolution, so you can zoom in and practice working on all the tiny wrinkles and details. Some of it's free, some of it's paid.
VirtualPose - Similar to Posespace but software-based. Not free, but it looks fairly comprehensive.


Anatomy Reference
Fineart.sk - Anatomy references for artists.
Artnatomia - Facial muscle/expression reference tool.
ArtistAnatomy.com - Muscle & bone reference sketches.
Veterinary Anatomical Illustrations - Animal anatomy references @ UWDC.
A Comparative View of the Human and Animal Frame - More animal anatomy references @ UWDC.
3D Interactive Anatomy - 3D interactive models of the human skull & extremities, as well as some animal skulls. Available as regular video turnarounds or as downloadable 3D PDFs. Hosted at Ohio University.
3D Museum - 3D bone anatomy of everything right on down to invertebrates. Requires Java and plugins to view, which is slightly obnoxious, but it's worth it. Note: it hasn't been updated in a few years.
Gray's Anatomy Online - the definitive classic. Hosted at Bartleby.
Muscle Atlas - Clear views of each muscle, its endpoint and anatomical context. Hosted at the Dep't of Radiology at the University of Washington.
Mammalian Crania Photographic Archive – High-resolution side and front photos of skulls from hundreds of species. Hosted by Dokkyo Medical University of Japan.


Other Reference
The Facial Expression Repertoire - Photographic reference for various facial expressions. Requires registration, but it's free (and totally worth it).
ArtMorgue.com - General reference images for various items.
The Costume Page - Reference images for historic costume.
Great Buildings - Architectural reference images.


Art History
SmartHistory - An interactive art history site.
Artcyclopedia - Indexed guide to famous artists online.
Heilbrunn Timeline of Art History - Hosted by the Metropolitan Museum of Art, NYC.
Art History Resources - A comprehensive list of links to sites for specific periods in art history.
Voice of the Shuttle - Another comprehensive links list, organized by time period and location.
The Art History Research Centre - Slightly dated but still incredibly useful.
The Mother of All Art & Art History Links Pages - exactly what it sounds like.


Light & Color
Virtual Lighting Studio - A virtual method of modeling multiple light sources on the human head.
Photoworkshop's Light Cage - Another virtual lighting simulator.


Textures & Brushes
1000 Skies - Cloud textures.
Grunge Textures - Weathered and worn surfaces.
Subtle Patterns - Less obvious textures.
Brusheezy - Makes finding brushes, uh, eezy.
Brush King - Tons of free Photoshop brushes.
Ray Frenden - Maker of kickass brush sets for Photoshop, MangaStudio 4, and MangaStudio 5.


Miscellaneous
Elements of Perspective - A comprehensive tutorial on drawing multiple types of perspective.
CharacterDesigns.com - A resource for artists wanting to learn more about character design.


Art Supplies & Related
CarpeDiem Store Artist supplies, portfolios, studio furniture, craft tools and a lot more.

Scrapbooking Warehouse Mostly scrapbooking and papercraft supplies, but they also have markers, pens, paints and a handy storage section that has folios, craft bags and the like.

Merri Artist I highly recommend this site. Not only do they have an excellent selection spanning many different art and craft mediums, but after much comparison they also more often than not have the best prices as well.
Jetpens - Awesome specialty art pens from Asia.[/quote]
Edited by Mayhem, 15 April 2016 - 02:08 AM.