Hopefully I did this correctly.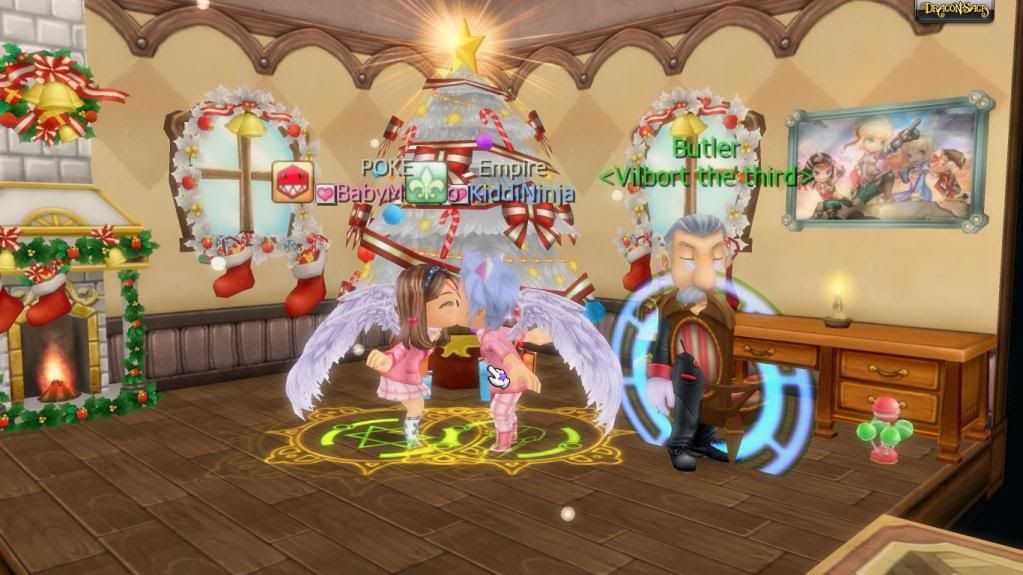 Hello. I'm gonna do this for BabyMakiyo, since it's her house anyways.
Her house bring a thrill of Christmas Spirit making you feeling just like home. Whenever you are feeling down or depressed, simply looking out that window and seeing the beautiful view of the mountainous area with falling snow will set your mood much better, don't worry there is enough room for 2. The nice fireplace is where you can make delicious snacks like s'mores or grill cheese whenever you are feeling hungry. Me and BabyMakiyo always write to each other everyday, luckily she has a nice wooden desk to write on, unlike me where I stand in front of the mail box looking like a idiot and not even writing but actually writing writes! Of course the white Christmas tree plays a big part for this room, we put all our gift under the tree and get it ready for Christmas Day and unwrap, you don't see much because most gift are more.... pleasant. Moving along, as you can see the Butler is very fond with the chair, the lust of red and white stripes attract the butler very much, behind the butler is the mailbox, he always go through it for some reason... Also we have this little colorful ball lying on the floors, well we have no use for it. And for the glorious picture hanging on the wall, just looking at it simply makes you want to point at it and say, "HA HA!" (The Simpson quote)... maybe not.
Oh and I broke the roof just to let some snow in here Lols. JKJK.... i have no clue how it snow in here. O.O
Having your couple by your side in this cozy home will make you feel like he or she is the best gift you ever had! I know it isn't too big, but it is just perfect for the both of us. If both of us are in here, you better not bring your couple in here, it gets too crowded. And we don't want random couple making out in here, will be kind of awkward, but it's never too late to get to know us and hang out in here. Make sure you have BabyMakiyo's permission!
So this is BabyMakiyo's Home, all rightful possession belongs to her, including me (KiddiNinja) hehe. Hope you enjoy this view!
Lists
White Christmas Tree
Christmas Fireplace(White)
Wooden Desk
Modern Brown Chair
Prune Candy Interior Prop
Picture Frame of Glorious Moment
Modern Brown Mailbox
Christmas Window x2
Wood Tile
Wallpaper - Neat Yellow
Butler
Edited by Helloimkiddi, 28 December 2011 - 11:11 AM.