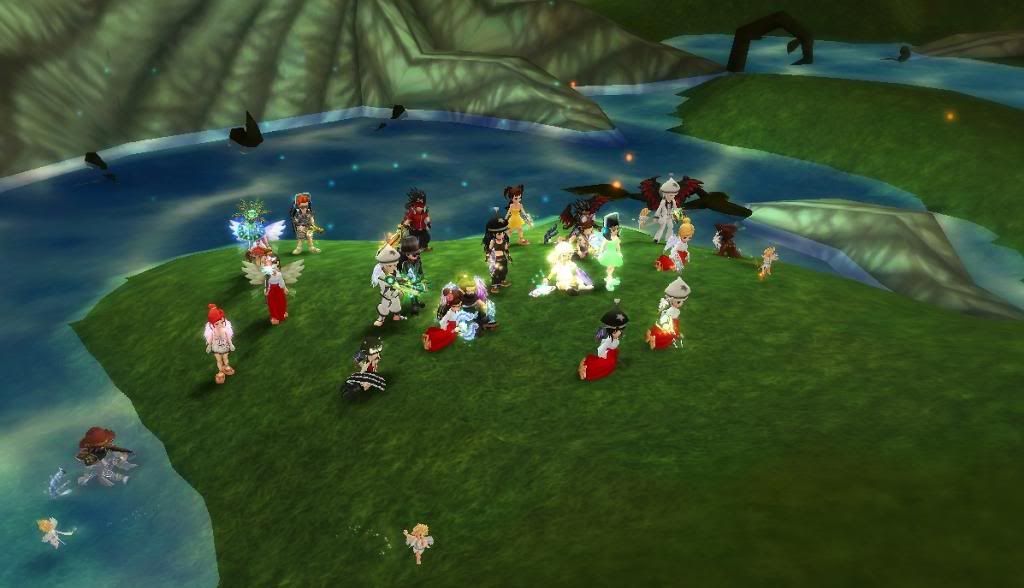 "Give me Liberty, or give me Death"
A new era has began. A real family, loyalty, and true character.
Revelation was inspired by the Assassin's Creed series. We believe in strength and character. We wish to form a brotherhood and protect our allies under all circumstances.
One will never understand what an honor it is to be a Revelation and how friendly we actually are toward each other without entering.
Be proud as a Revelation.
A couple players wandering around the worlds in Draconis including myself, decided to created a clan full of elite players who are interested in war and creating new strategies for different situations. So there it was, the clan was found on the 23rd of December in the year 2011. It first started off with only four players, but the size of the clan quickly expanded. The clan reached Grade 7 in approximately one week: December 30, 2011. As time passes by, many people asked to be part of us. We did not simply invite anyone into clan, we tested their abilities before entering. Clan slots were quickly filled up, and wars were more active than ever. The rules were very strict in the beginning but most of the players followed it anyway. Unfortunately, soon enough, the clan will take a huge fall. As much as we tried to keep the clan alive, unfortunately, we suffered a great loss of members during the inactive times of many players back in 2012 for months. The return of multiple players quickly draw attention to others and the clan was alive once again. But in the early 2013, many players became inactive once again, but the problem was fixed after a short period of time. Times became harder once again, especially after the skill update was launched. There are still many of us remaining, and even though many are inactive, they will always be considered family of the brotherhood. There are many loyal members remaining in the clan, and also the loyal inactive(s) will never be kicked because of the efforts they've all provided to improve the clan status and their personality traits which made the clan much more amusing.
About us:
This clan is brought together by the elite players in Draconis.
We claim to be the best clan in Draconis- based of strength, resistant, skills, and most importantly, honor.
We have no allied clans, so if we wish to war, we can, and will take out multiple clans at once.
We are glad to invite anyone who is interested to join, but understand that the clan is mostly full of players.
We act as a family and we treat each other as siblings. We play together, we help each other, we laugh together.
Once one is kicked from the family, chances are he/she will not be coming back. If one wishes to stay, then never quit.
We wish to find more players with good quality, but most importantly, loyalty and attitude.
If a player is interested of joining us and be part of the family, please inform any member from the clan.
We value mutual respect more than any other thing in this clan. We shall treat each other like family.
Clan Master: Rhino

Deputy Master: Hue, Tia
Rules:
Staying Active: Be active. One of the biggest problems a clan have is a list filled with inactive players. We like to be active and we would like to have a clan full of active people. If you have an emergency, or need to leave, it's best to let us know ahead of time.

Participation: We are a war clan, we like to participate in wars and help out if our comrades are in trouble. When called upon, do not ignore and step into action.

Attitude: Respect each other. We like to have friendly and loyal members to play alongside with. Don't start a fight or an argument in chat or kill own members. If you have problems with players within the clan, please discuss it within the "group". Also, please do not ask for a player's skill/stat build if you just entered the clan, it is very irritating especially when we did not get a chance to meet you yet.

Illegal Activities: If one is caught scamming/hacking or anything related to the category, he/she will automatically be kicked out of the clan.
The rules are simple, it's very easy to follow.

Enjoy your day on ROSE.



Sincerely,



Members of Revelation


Edited by ryancmt, 17 October 2013 - 08:37 PM.