This is Nottingham. Now look at your boyfriend. Now back to Nottingham. You'll notice your boyfriend is nowhere near as hot as this guy right here.
You've probably seen him around town. If you are a female, you've probably been waltzed gracefully into his arms. As you stared into his eyes, you realized with wild abandon just how much you want this man to ravish you and take you for himself. He is hot stuff. He is handsome and he knows it. He wants to take you and then walk away and never remember your name. And you know what? You want that, too. Nottingham is sex embodied.
Just look at this face. Sleek and charming, with the slight burned tint of a hardened warrior [This is actually due to catching a glimpse of Prillipy's underwear as he was using Inferno]. His hair invites a sleekness and charm unlike any other man. His outfit is snazzy, neat, and just dripping with lust. He'll be that butler you asked for--he'll bring you your tea and treat you like a Princess. But that tea comes with a very, very extra large treat. I do not need to remind anyone that this treat is the tastiest thing in the world. Unlike your boyfriend's.
Got a problem with that, little man? He's got more summons than you have lives. Golgon don't take crap from nobody. Mist? He'll turn you into mist before you can even figure out just what the hell it is. Dyke? ... Dyke.
NOTTINGHAM'S CREW OF BOOTY-CALLIN'
. YOU EVEN GET TO SEE SOME SEXY AS HELL NOTTINGHAM BACK. HELL YES.
And then there's this piping hot plate of your fresh rump steamed and served directly to you by the Dark Knight himself. If this guy is watching the door at your club, you should just turn right around and head on home to drink that old Kahlua you have--cause you are definitely not getting past this guy.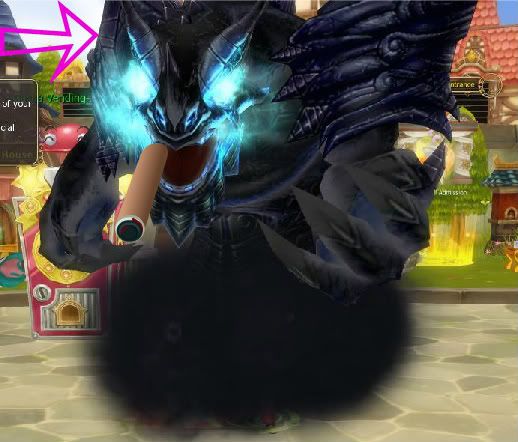 DARK KNIGHT. BATMAN? BATMAN'S A SCRUB COMPARED TO THIS STRONG MOTHERTRUCKER.
FANCLUB ROSTER
Every lady in Dragon Saga
Panana
None other need apply.
Feel free to drop in and say how great it was when Nottingham waltzed you to heaven and back. And if you want some of this for yourself, just ask the man himself.
Edited by Kazu731, 19 March 2012 - 01:51 AM.