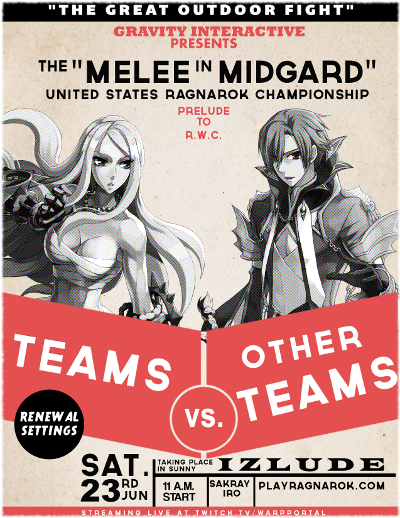 Overview:
Time to put on your favorite summer jams and get ready for some team vs team action this June!
Right after our series of PVP tournaments, we are going to have our United States Ragnarok Championship at
11am on June 23rd
.
Using rules we have recently received from kRO, we're going to replicate the conditions and rules of this year's RWC tournament as closely as possible.
We will be getting NPCs set up on Sakray that will properly set up the characters prior to the tournament so teams will be able to practice in advance.
These matches will be broadcast on our Twitch.tv page, so even if you aren't competing you an watch!
Registration:
Registration will be done through this thread. If are the team leader who will be participating please post in this thread with:
-Team leader name (on sakray)
-Names of characters +alternates
-Team name
-Logo image (follows guild logo images here: Emblems must be 24X24 pixels in BMP format using 256 colors, the hot pink color (Red: 255 Green: 0 Blue: 255) will appear transparent ingame.)
Registration cutoff is
Friday, June 22nd Noon PST
, please keep your registration post updated if you change your lineup or other team details.
Rules, restrictions and prizes:
Renewal settings, 3rd classes allowed
Each team will consist of 7 players, and must have at least 5 players to be able to participate.
The normal matches will be best 2 out of 3, when we move to determining the 4th-1st place matches it will be best 3 out of 5. This may be changed depending on the number of teams we have attending.
The matches will last for 7 minutes, if it is a tiebreaking match the team with the most surviving characters will be awarded the match.
If it is clear that one team is not fighting or is hiding/fleeing to avoid an inevitable loss, the GMs will step in and declare the match over.
Teams will have 2 minutes to restock between matches, though if they can be ready sooner than that the match will start when everyone is ready.
Character level limits:
Base level 135, job 501st job: 49 skill points, 2nd 69 skill points, 3rd 49 skill points Total of 167 skill points.
Restricted skills:
Shadow Chaser: Manhole, Dimension Door, Masquerade Gloomy & Unlucky, Fatal Menace
Geneticist: Change Material
Sorcerer: Element Analyze
Item lists and prices:
Can't make tables here, so I'll put it up on a
official playragnarok page here
.
** The list is not updated! It's the 2011 list, I'm using it as a placeholder to make the proper HTML for the actual 2012 list.**
Prizes:
The format for the prize will be determined, likely to be in the form of a gift card. Prize amount will be for each of the 7 participating team members.
1st Place- $150
2nd Place-$85
3rd Place-$50
Teams who demonstrate good sportsmanship will be entered into a lottery to win a cash prize.
In addition, users who are sharing links to the USRC posts we'll have up and twittering with the #USRC2012 hashtag will be entered into a similar lottery for cash prizes.
You should now have a working version of sakray.exe in your normal RO install folder. You can start this client and log in. When you create a new character, you will be taken through the USRC character creation process and will be properly leveled.
Heimdallr:
Our preparations for Sakray should be done by Tuesday. We will be making a mini sakray client to make it easier for everyone rather than the Full 13.3 Sakray client.

Thursday morning all USRC area characters will get forced to Prontera, all of you will need to set up your characters after that point and be ready by Saturday 10:30am. You should have no problems, we will not be resetting zeny after Thursday, so don't waste your z.

We will mark this info on the Sakray patcher as well so you know when you can make your USRC characters.