To send in a ticket, go to
http://www.warpportal.com/
and click Support at the top.
Log in if necessary and click Submit a Ticket.
For the department, choose Bug Reports.
1.

Don't make a forum post about it.
Making forum posts about a bug only lets other people know about it, giving other people a chance to exploit it and therefore more work for the GMs to do when they try and reverse whatever damage was done.
2.

Title your ticket appropriately.
Fill out the information requested in the various fields, and then name the ticket something that will be informative to the GM team. If the bug is something that could be exploited to gain a lot of zeny, items or experience, you might want to let them know that it is "IMPORTANT: Zeny Gaining Glitch". If an NPC is not responding when you click on it, however, it does not require immediate attention and "NPC Not Responding" will work fine. "FIX THIS PLS" is not a good ticket title.
3.

Give Specific Information
Start out by giving a list of very exact details about the bug you are reporting. Things that might be helpful:
- What class you play / the bug happened on
- What time / date the bug happened at
- What map the bug happened on
- What skill(s) you used
- What items you equipped / have equipped
- What items / how much zeny is gained / lost through the bug
4.

Explain, In Detail, How The Bug Can Be Replicated
This is the most important part. If the GM team cannot replicate the bug, they will not be able to figure out what needs to be fixed. Any information you can give about how the bug can be replicated or what you were doing when the bug happened will be very useful in helping them recreate it.
5.

PM a Moderator or Community Manager (Optional)
Bug reports are very high on the priority list and will usually be answered very quickly, but if the issue is truly (and I mean TRULY) important you might want to also PM a forum Moderator or Community Manager so that, if possible, it can be dealt with immediately or we can see if a fix has been made.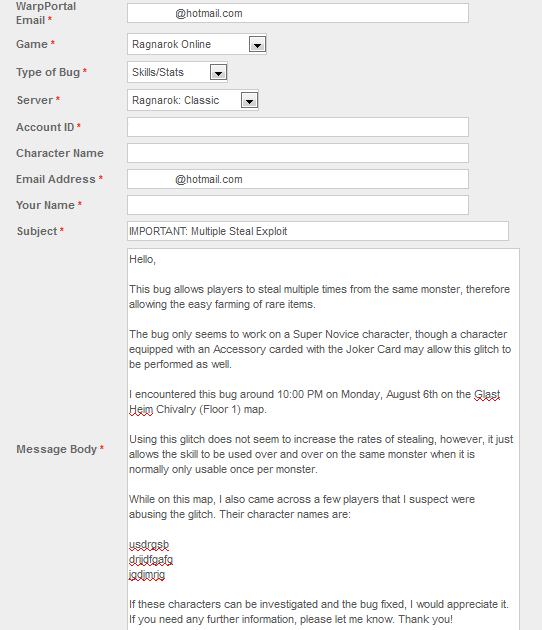 Edited by Ralis, 06 August 2012 - 10:49 PM.