Ask your questions for Tiki Tuesday in the thread, and we'll answer them on our Tiki Tuesday show airing this week! This week we have a special guest, longtime community super-artist Barachan! She'll be drawing over our stream and on my face while I answer questions. The live stream will happen at 11:30 am PDT and we will be rebroadcasting it at 3:00 pm along with our This Week in Ragnarok show.
For today's bit of history, we focus on the long-gone but not forgotten Clifton's Pacific Seas. Founded in the early 30s as part of a chain by Cliff Clinton, this restaurant was converted to a faux Polynesian theme in '39 during the original Tiki bar boom started by Don the Beachcomber.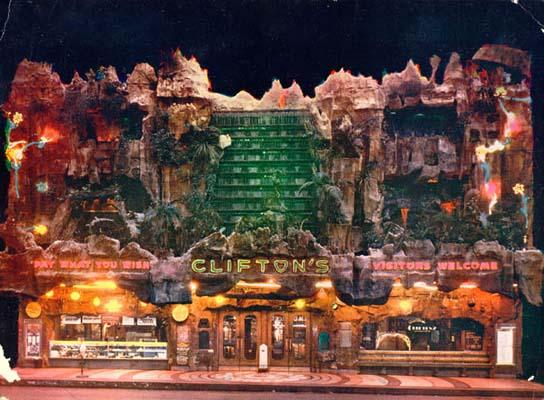 Cliff Clinton was an interesting guy, who provided millions of meals for little or no cost during the great depression at his restaurants, with a edict that no-one be turned away from his restaurants. During the dark ages of L.A. politics he worked to expose the considerable corruption that had infested nearly every level of the local government and had a bomb exploded in his home as a warning from crooked cops. Despite this and other assassination attempts on fellow reformers they were able to provoke a recall election that ousted the mayor.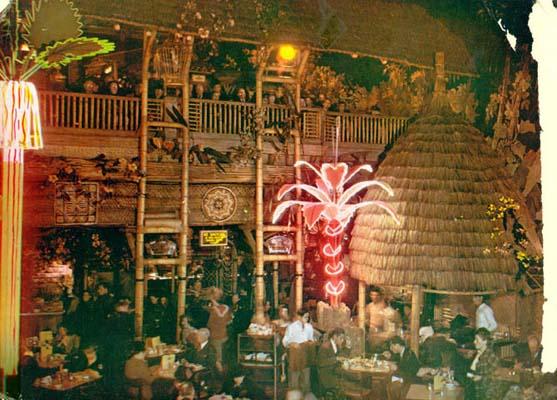 Pacific Seas became "the poor man's nightclub" in Clinton's words, an iconic hangout in the heart of downtown Los Angeles, and one of the early tiki restaurants in Los Angeles. It survived until 1960.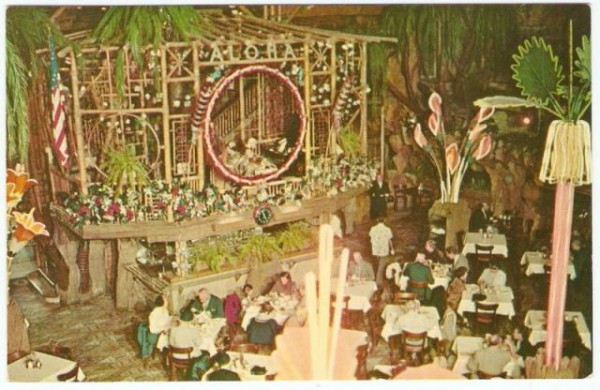 Further reading: Collector's Weekly has an excellent write up on Clinton and his restaurants.
For the recipe of the week, we have a neat Pineapple recipe from Clifton's restaurant
PINEAPPLE BRAN MUFFINS
2 cups Bran, unprocessed
1/2 cup Sugar
1 1/2 tsp Salt
2 1/3 tsp Baking Soda
1 Egg
1/4 cup Vegetable Oil
1/4 cup Honey
3 tbsp Milk Powder, dry, nonfat
1 1/2 cup Flour
3/4 cup Water
1/3 cup Crushed Pineapple, drained
1. Place bran, sugar, sal, baking soda, egg, oil and honey in a medium mixing bowl.
2. Mix at low speed until ingredients are well mixed.
3. Add dry milk, flour and water. Whip until batter is just mixed. Do not over-mix.
4. Add crushed pineapple. Mix in thoroughly
5. Spoon batter into papaer-lined muffin cups, filling 3/4 ful.
6. Bake at 400 degrees F for 15-20 minutes.
Serves 12-15 muffins