The Ralis Conundrum

School is starting up again, and that means it's time to get your brain back in shape!
Every Wednesday, at some varying point of the day, I'll be posting some sort of weekly challenge for you to figure out. Each week brings a new puzzle: it may be a math problem, a riddle or something else entirely. Whatever it may be, you'll have to use a little (or a lot of) brain power to figure it out.
The competition is open to both servers! Chaos Renewal and Classic Loki players may both enter their answers. It may help you to know, then, that the answer to each challenge will be something that can be found on both servers.
Correct answers may win a prize at the end of the week. However, only a certain number of prizes can be given out each week and all correct answers are entered into the prize pool. Help others at your own risk!
Please do not post or PM your answers. Use the link below the challenge to submit answers!
Keep in mind that you only get one try; once you have submitted an answer, it is considered final!


This Week's Challenge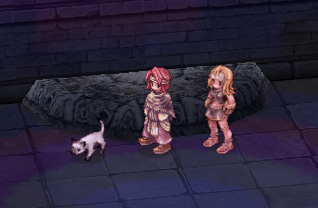 While attempting to break into a safe on a recent heist, the Z Gang were stumped by the clues to the vault's combination.
That's where you come in, though! They've offered to give you a handsome reward if you can figure out the correct sequence to open the lock. They hand you a note, presumably with directions to unlocking the safe:
The vault combination is a four digit number. These clues will help you find it:
1. The third number is even, and the digital root of all four numbers is 6 (Ex. 1234: 1+2+3+4=10, 1+0=1, Digital Root=1).
2. The third number is the product of the first and second numbers, and all four numbers are in descending order (Ex. 9831, 7542, 5421, etc.).
3. The fourth number is the sum of the second and third numbers, and no number repeats (Ex. 1111, 1661, 4545, etc. are not possible).
4. The second number is prime, and three of the numbers are in consecutive order (Ex. 123x, x987, 765x, etc.).
Only three of the above numbered statements are true.
The Z-Gang also tells you that they've already tried all solutions that include 0 but were unsuccessful, so the vault combination must only use the numbers 1 through 9.

What is the four-number combination?
DISCLAIMER:
Click Here To Submit Your Answer
This week's prize:

Gangster Scarf
The competition ends Tuesday, September 9th at 11:59 PM PST! Good luck!

Edited by Ralis, 02 September 2014 - 11:09 PM.