So, I noticed that clerics with flames were starting to heal five, six times more than me on my cleric. Double, triple even, would be one thing. I dont have flames and my charm is often considered lower then others. But five or six times--Seven even--and the points to go along with it.
So I tested this just now. I went in with a cleric who had the following gear, just so everyone has an idea for test sake
reinforced bonnet(15) substats 75 dodge 50 mspeed
reinforced orlean robe(10) substat 300 hp
reinforced orlean gloves (no refine) substat 75 dodge 50 mspeed
reinforced orlean shoes(11) substat crital 40
a nature force jewlery set all gemmed with t7s (note, I dont actually have any of those int-> def passives on this cleric)
orlean backsheild (unrefined) attack power 15 acc 40
magic pearl(unrefined) ap 30
dork glasses substat int 10
dust wand(unrefined) b7
I buffed, but I did not heal at all. The only thing I did was make sure I had one or two mana flames down at a time(had I used the new gem I could have done double, but didn't want to waste one just for this test).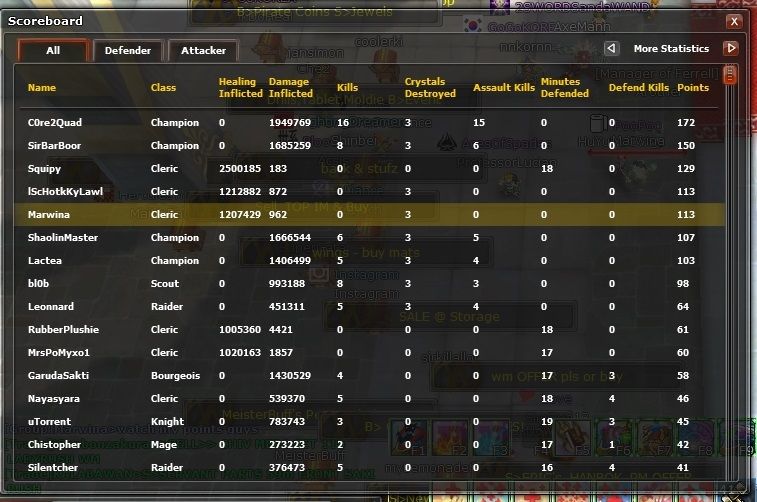 So on one skill alone, I can, essentially,at least twice what 8 of my other skills and a lot more concentration can do. On top of that, I was rewarded greatly for it.
Really, using flames if they are going to count towards heals should be listed in a seperate collumn on the board and not be weighted so much towards your end points.
Do fighters get kills and damage from their summons too? That one is a little harder to test, so now I'm curious.
Edit: FYI I have, with my wand on this cleric, 430 charm. I dont know if that effects the power of the salamander flame, if it does thats horrifying too. :/
Edited by NamirBarades, 03 October 2014 - 05:25 AM.