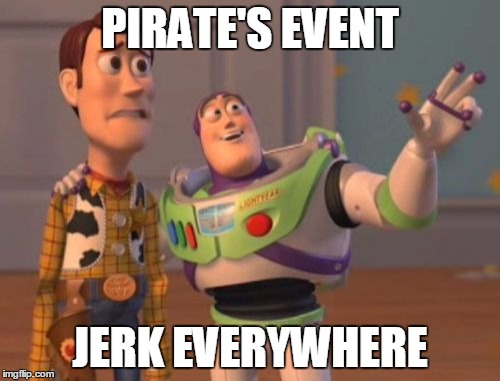 The Pirate's Event, undoubtedly the rewards are great, but it does developed hates among player because of some uncivilized player showing jerk behavior towards other player.
- Bot/macro, they response very fast when a doubloons spot respawn.
- Hide class appears and collect when you still in combat with monster.
- Misbehaved player use transformation pet to stop you from collecting and they steal the spot.
And the best part is:
After some moments, you will see in trade channel, those uncivilized player who bully other player will start to sell stacks of doubloons, while other player who play fairly still struggle to get enough amount of doubloons to exchange for the items they really need.
Thus, I wish WP could do something or modify the event if possible to minimize the problem. And here, I have a suggestion:
Create Cursed Ghost Ship (Easy Mode) dedicated for this event, with the following properties:
- Easy Mode is meant for single player.
- Change all monster and their difficulty in Easy Mode to Level 15. (I believe Level 15 is the minimum level to start the event.)
- Remove all bosses if possible, since bosses are not applicable in Easy Mode, and to minimize any potential problem.
- WP could empty the drop table of monster in Easy Mode to minimize potential interference.
- Place around 15 or any appropriate number of spots of "Something Buried Traces" in the dungeon, of course these doubloons spots in dungeon do not respawn. (Clumsy Pirates have dropped their booty on the ship as well.)
Well, WP could remain all the doubloons spots on the shores as usual, just by adding this easy mode dungeon will do. I believe this will reduce some frustration when collecting doubloons.
I'm not sure will this get a favour from WP. I believe the easy mode dungeon template is there, but the real challenge probably is setting up all the parameters, monster content and adding doubloons spots inside easy mode without breaking normal and hard mode.