Source link : http://ragnarokonlin...stment1705.html

Interesting how they always try to adjust their maps and give new challenges to players. Most of monsters they've adjusted are earth-property as the previous event gave players many Fury Hunting Weapons (猟乱武器) (They are all fire property).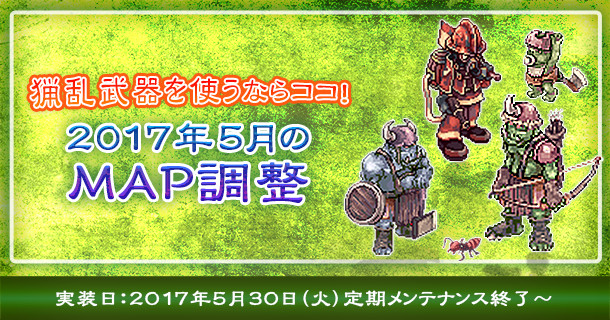 Implementation date : Since May 30th, 2017

In the source link, adjustments are displayed in red color and the original values are displayed within parenthesis. I'm going to post only those that have been changed.

Maps adjustments
Geffen Field 02 has become a great spot for Rune Knights looking for materials for their rune stones.

Monsters Adjustments
Most of adjustments are mainly applied for increasing their HP and EXP

Monsters' skills adjustment
There are adjustments applied for
Queen Controlled Andre
,
Queen Controlled Piere
and
Queen Controlled Deniro
but the detail isn't written.
Drop Adjustment
Previous maps adjustment was Geffen and Izlude back in
February 21th, 2017
____________________________________
Extra
:
I'm thinking of using this topic to post future news about another map adjustment.
Edited by OBBO, 14 August 2017 - 11:38 PM.