Patch Notes June 19, 2017
Please note: Details are subject to change at any time.
Weekly Maintenance Time: 3pm-7pm PDT (~4 hours)
Character Appearance and Gender Customization
Change is good! Tired of the same old face, eyes, hair, voice, or even gender? Thanks to fantastic advancements in technology, the Kafra Service is now able to provide Appearance and Gender Customization!
Getting Started
To begin, visit the Kafra Surgeon in Prontera.
In order to meet her requirements, you will need to prepare a few things:
- Remove all gender-specific gear.
- Cancel any type of transformation spell.
- Carry an Appearance Change Ticket
Appearance Change Ticket: Allows removal of your appearance's pre-existing condition! Take this Appearance Change Ticket to the Kafra Surgeon in order to change your appearance or gender.
The Appearance Change Ticket can be purchased from the Kafra Shop and can be sold, traded, and auctioned.
With your Appearance Change Ticket in your inventory, and all other requirements met, the Kafra Surgeon will display this dialogue box:
Press the Appearance button to open the customization interface. You can use the + and - buttons on the bottom of the window to zoom into a particular feature or zoom out to view your entire character. As you scroll through the options available to your character, they will automatically be shown in the interface. Experiment with different combinations until you find the style that suits you perfectly!
If you're feeling even more daring, you can change your gender at the same time that you customize other parts of your appearance. Press the OK! Let's go! button to complete your selection.
The Appearance Change Ticket will be consumed, and your character will automatically update according to the selections that you have made.
We hope you enjoy using the new Kafra Surgeon! If you need more information or would like to see an example of the process, please view the video below:
Time to Expand Your Wardrobe!
Want purple runeholes in your costume, but don't want to look like a Kafra employee? Not feeling the Swag? Well, you're in luck! A new set of vendors have joined Cheny in Prontera, and they bring with them the ability to exchange your old costume items for shiny new purple-slotted versions!
To Begin...
Find the NPC that is appropriate for your costume type:
Tijera, Unisex Costumes
Hasami, Female Costumes
Forbici, Male Costumes
Scissors, Platinum and Union Costumes
Gawi, RO1 Costumes
You will need:
3-slot version of a grey runehole costume
20,000 Diamonds
Each vendor has a vast selection of costumes. Find your costume on the list to exchange the 3-slot version and 20,000 diamonds for a new 3-slot purple runehole version!
Important Notes
- Dye will not transfer.
- Please remove any runes that you would like to keep. Runes and Runeholes will not be transferred.
- RO1 statted costumes do not have a statted version with purple runeholes.
For more information and to see this new feature in action, take a moment to watch our preview video: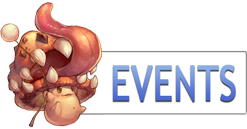 It's time for June's Happy Hour Boxes!
Event Period: June 19 - June 26, 2017
Happy Hour Boxes drop four times a day:

- 02:00-03:00
- 08:00-09:00
- 14:00-15:00
- 20:00-21:00

Players have a chance to get an additional box drop during this time by farming monsters within a five level range of the player that will randomly pop out a useful item.
Box has a chance to drop one of the following items:
- The Chance Coupon
- 2 Thief Potions
- Card Coating Paper
- Divine Protection
-Large Bag
- Master Battle Manual Order
- Graham Potion
- Premium Dye
- Phantom Stone
- Event Random Box II
- Special Honing Oil (5%)
Interface Design: Kafra Surgeon
Event Period: June 12 to July 31
The Kafra Service is proud to offer appearance and gender customization through the Kafra Surgeon NPC. To show our thanks for all of the Kafra Service's hard work, we have decided to create a background for the Kafra Surgeon's window! The winning entry will have their artwork immortalized in game as the new background for the customization window.
Winner
The Grand Prize winner will be chosen by staff vote. This winner will receive the following prizes in addition to the participation prize.
Winners will receive:
In addition to having their work immortalized in game, item prizes include:
2x Appearance Change Tickets
2x 3s Costume of Choice (Including Swag/Kafra and new 3s Purple Slot Costumes!)
Participation
Each participant will receive 1x Appearance Change Ticket and 2x Apple of Idun prize boxes.
To learn more and submit your entry, visit the event post HERE!
Ragnarok 2: Past, Present, Future
Video Contest
Event Period: May 15 - June 26
Four years of Ragnarok 2, and each of you have left a lasting impression on the history of the game. Anniversaries are a time of reflection, and in this video creation event we invite you to tell us about your special moments in Ragnarok 2.
Entry Instructions
Entries will be in video format.
Winners
The videos that best show passion, enthusiasm, effort, and creativity will be selected as grand prize winners. Grand prize winners will receive the participation reward as well as:
One of each:
3 Slot Upper, or Middle, or Lower Face accessory item of your choice
3 Slot Kafra or Swag or body costume item of your choice
Each qualifying participant will receive 5x Cheny's Sunshine Box.
For more information and to submit your entry, visit the event post: HERE!

- Resolved issue with NPC Aka not appearing during "Planning Further" quest in Jawaii