So I just made a video to show the great potential that WL has, due to the new gears implanted this year, WL now can farm any MVP without MVP cards or God Items. Hope you enjoy.
I'm not sure if this is the right place to post, please let me know in case I did wrongly, thank you.
Some ppl want to know more details so I put things here for easy look.
First I'd like to show how mdef bypass works.
According to the formula: Damage after Hard MDEF = Damage × [(1000 + HardMDEF) ÷ (1000 + HardMDEF × 10)]
The reduction shown as below, since Valk and Celia have 506 and 543 mdef each I made the x-axis over 500, while Kimi has 444 mdef.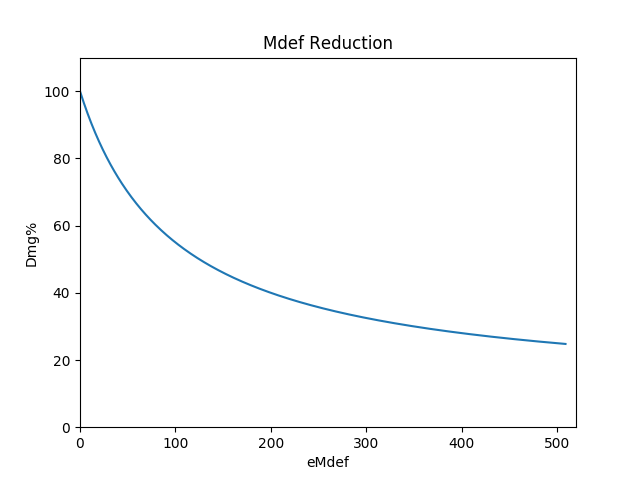 Comparing different degrees of magic bypassing as well as % magical dmg increasing (such like Maelstorm Pendent):
It's obvious that 50% bypass become close to 50% dmg increasing along the line, and 100% bypass raise ur dmg like 4~5 times when facing Valk, KK or Celia.
--------------------------------------------------------------------------------------------------
So the gears.
Basically, Pororoca Shoes+Lacryma Stick set (water ball set) and Magician's Gloves give 100% bypass. If u want to use Temporal Dex Boots for fast casting, Vicious Mind Rod/Staff and Ordinary Black Magician Hat would be good choices.
Valk- wb set + glove, or vicious mind staff (bypass 30% mdef of angel race), highly refined ordinary hat. (Thank SiegfriedKun for suggesting vm staff)
Comet is the only skill can make dmg to Valk since she's holy4, better to have lv5 (otherwise don't try her, lv1 would be enough to farm other holy mobs like randel). Hell Inferno do much lower dmg than Comet tho its a dark property magic (less than 50%), so it's not enough for soloing because u need to walk around, wait for best chance, and Valk is healing herself while u doing so.
Fenrir- KVM Staff is the best.
Demon/Formless/Undead/Brute races- Gloves + Big Ben Card Set/Nightmare Mimic Card Set other than wb set.
Some devil/undead race MVP (Fallen Bishop & Beelzebub) may trigger magical mirror (which reflects magical dmg fully to u) so it's meaningless to use wb set in such cases. For Beelzebub just soul expansion/lightening it's links. For Fallen Bishop, in video the WL lightening him and immediately move off the screen to avoid reflection. GTB doesn't help to immune this reflection.
Other gears we use:
-Flattery Robe Int4 and above, not necessary to have a card but Angeling or Pasana helps a lot when facing Valk and other MVPs. Don't forget Survivor's Manteau, it forms set with flattery that increase magic dmg.
-Mob Scarf+Sunglasses, choose Yellow Lichtern (Ghost)/Red Lichtern(Fire)/Tikbalang (Wind) Card depends on ur favorite skill and zeny.
-Maelstorm Pendent/RWC Pendent (%Matk enchant)
---------------------------------------------------------------------------------------------------------------------------------
About Hit & Run
Radius Lv3 is prefered. Check the picture below to make sure u release magic at where the mob cannot see u, so u don't get hurt.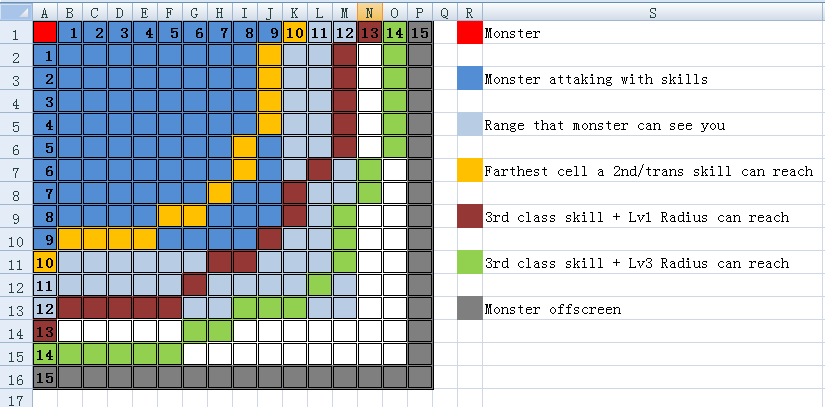 Use Speed Potion/Halter Lead for quick running, Quagmire can slow down the moving speed of MVP. Some of AB's party buffs may cause slightly delay, so don't rely on that too much, bring green potion/holy water for chaos and curse.
And better not ask for lex if u decide to hit & run unless the AB is super experienced.
Edited by evenlight, 18 September 2017 - 08:00 PM.