A refine event that allows players to do many special refinements such as safety refine or even the removal of cards without any ore or zeny.
For every year at Japan's Ragnarok Online, there will be a refine event held with its unique theme of story. This year, since the Doram update has been implemented, the story is about cats and their kingdom.

Source : Japan Ragnarok Online's Official Website : Miracle Clanging Carnival in Cat Kingdom Event

(Mirakuru = Miracle)
(Kan Kan = a sound when metal or ore is hit. I guess the English's equivalent word is "Clang")

Story

Overview of this event
Play all instance dungeons in game world and record the progress at
Gentouki
(a demon that resembles Munak)
then use the event points given as a reward to do a refine to weapons or gears of your choice!
Steps
- A
citizen from the Cat Kingdom
appears in towns like Prontera, for example. He offers a free teleport to the event hall named :
Royal Cat Kingdom
(猫王国).
- Start this event by talking to
Kikyou
and listen to her story.
7 new traditional costumes
of the Cat Kingdom are available for choosing.
** Players who joined Rag Colle 2018 event in March or Spring Festival's Preparatory event will be rewarded with additional Bagel points since the beginning.
- Go to any instance dungeons around the game world. Along way inside, there will be coffins that pop out
Gentouki
. Talking to her will record the progress of instance dungeon.
- Report the progress back to
Cat King
and get
Bagel points
as a reward. Rewarded Bagel point will be 10 times multiplied.
** Reporting only 1 time is considered as "Cleared" and will give additional rewards when next seasonal event of the game is held including Christmas.
** Reporting can be done only 1 time per day. 2 times per day if played at official internet cafe at Japan.
** Each character can hold only 10,000 Bagel points.

- Bagel points can be given to Brigid for a refine.


** Warning : this is a normal refine that can permanently break the item. This refine uses only Bagel points without needing additional materials or zeny.

The special refine
Now, the true point of this event is here. Every 4 days there will be a large meeting of the Cat King held. During the time, 3 more special refinements will then be available.

1. Miracle Refine (ミラクル精錬) :


A refine that guarantees the safety of the item. If the refine was fail, the refine level is only reset to 0 without any break. The success rate is lower than usual however.

2. Composite Refine (合成精錬) :


A refine that moves cards to other item. The items that cards are moved from will be permanently destroyed.

3. Restoring Refine (リストア精錬) :


A refine that deletes a card compounded to the item. Making it possible for the item to be compounded by a new card.

** Caution : There are weapons and gears that Composite Refine and Restoring Refine cannot be done. The list of weapons and gears can be seen at NPCs at the event hall.

The day & time of these 3 special refinements can be seen in the table below :




Tressure Hunting


There's a Tressure Hunter at the event hall. He gives 3 passwords per day. By moving around the event hall to solve a given password, player has a chance of going inside a mysterious place that gives random reward. An example of rewards are : Ornament of Old Lunar Eclipse, Aquarius Diadem [1], Serpentarius Crown [1], Fragment of Aquarius / Serpentarius and more.


In addition, +9 Ornament of Old Lunar Eclipse can be traded to Ornament of Lunar Eclipse at Tressure Hunter's Wife



Fragments of Aquarius / Serpentarius is given every time the tressure is found. 200 of them can be traded to Aquarius / Serpentarius which has a set bonus with Aquarius Diadem [1] and Serpentarius Crown [1] respectively.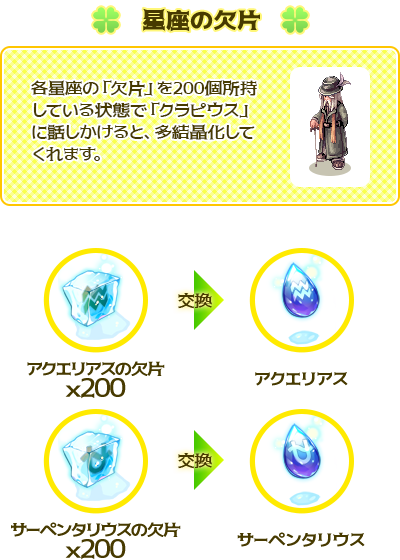 ** Each character can hold a maximum of 9 passwords. It is recommended to solve all before receiving new.

Other Services


Bagel Points can be used for various services at the event hall. For example, Crispy Biscuit (3% HP&SP recovery item - with expiry date), Town Teleport, Dungeon Teleport, HP&SP restore to max and much more.

Data (Costumes)

Data
(New items)
Wallpaper
Many sizes are available. Please visit the website to download.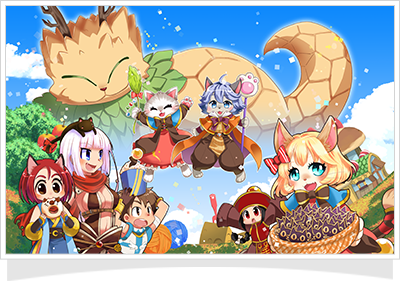 Illustrator : Narihara Tonmi

Comment : Newly implemented Doram race is really really cute. I wanna pat them over and over!

Illustrator's website : http://jikihai.blog.fc2.com/

Special Costumes
Saijou Moga-san, an official Doram presenter has designed a new costume to the game called "Kuma Neko Kuma-kun".
The costume is being distributed by a wandering doll maker at Lasagna 1 for each character (If you have 10 characters then you will get 10 of it)

JRO's refine event history
_____________________________________________
Gray Wing Boots bought for 40M at +0 has now become +6 thanks to this event.
Though, I can't couldn't dare to make it until +7 yesterday because I saw my chance had failed very very often at +5. (lol) Thought my points weren't enough to make it.
Edited by OBBO, 15 May 2018 - 06:26 PM.