Ragnarok Online: Transcendence
Closed Beta Test Begins Monday, December 16, 2019
Starting December 16th, those who are Pre-Registered will get a chance to try out Ragnarok Transcendence early! Register today to get in on the closed beta test!

Pre-Registration Ramp-Up Raffle!

To celebrate the coming of Ragnarok Transcendence, we will be conducting special raffles to those who have Pre-Registered! The more pre-registers we get, the better the loot! So make sure to tell your friends, guild mates, and Pre-Register to get a chance to obtain some spectacular prizes!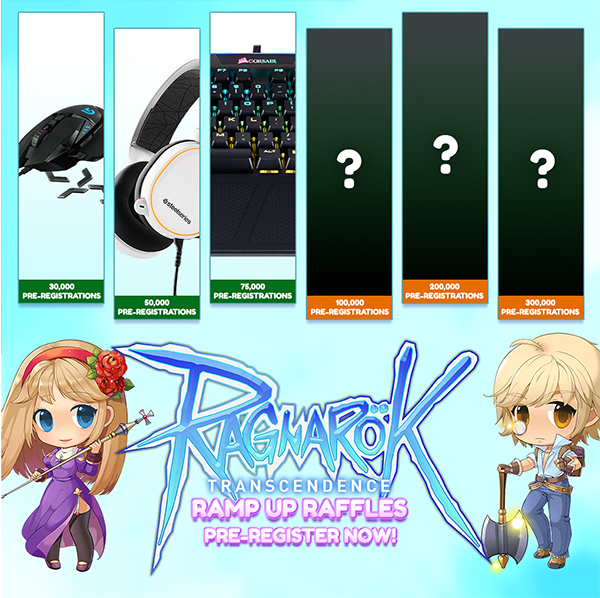 Unlocked so far:

Stage 1 Goal: 30K- 8 Lucky winners will get a Logitech Gamer Mouse!

Stage 2 Goal: 50K – 5 Winners will receive a Steel Series Arctus Headset!

Stage 3 Goal: 75K – 4 Winners will receive a Corsair K95 Keyboard!

Stage 4 Goal: ?????

Stage 5 Goal: ?????

Stage 6 Goal: ?????


As more players pre-register, more prizes will be unlocked for the raffle!
*Raffle Prizes will be distributed after the conclusion of Ragnarok Transcendence's Pre-Registration. For rules and terms click here

PRE-REGISTER HERE: https://www.warpportal.com/landing/ragnaroktranscendence/registration.aspx



A Note from the Production Team

Hey folks we're happy to hear you are excited about the beta test. We just want to note that the beta test is a real beta test and there will be a wipe at the end of the beta period.
Our testing schedule is as follows:
Monday. Logins and general game system

Tuesday - Thursday pet system testing. Every morning we will set all pets to loyal so that users can test the evolution system. Eggs, food, and taming items will be provided.

Friday - Monday homunclous testing. Friday and Monday morning we will set all homunculi to loyal so that users can test system. Embyros and food will be provided.

Tuesday - Thursday In Game VIP and Vend Testing (Currently not in a 100% state so we're letting the studio work on a fixed).

Ideally by the end of the closed beta test period we will have received our first dangerous dungeon game data and can open that to testing as well.
To ensure you will get an RT Beta Code on Monday. Make sure that you have the newsletter enabled in your Warpportal Profile Options.

Edit 12/16 5:10PM

The Closed Beta Test is LIVE!
For those who pre-registered, please check your email to see if you have been selected for this first wave the Ragnarok Transcendence CBT!

To redeem beta keys, pre-registered users please go here:
https://www.warpportal.com/landing/ragnaroktranscendence/couponactivation-abef-2948.aspx

DOWNLOAD THE CLIENT:
http://gravity.cdns.snxd.com/RagnarokT/RagnarokTranscendence-DLM.exe

READ MORE ABOUT CBT SCHEDULE:
http://playragnarok.com/news/article/4

Update: Please know that it may take some time for the emails to be distributed to all of the first wave of players sent codes for the Ragnarok Transcendence CBT. All emails should be distributed within the next 30 minutes.