Hello there guys, just wanted to get a new thread going to talk about the maintenances and updates for November.
More will be getting filled in, but I wanted to have a place to keep the changelogs from the maintenance from today on.
Classic 11/27 Maintenance
-Testing continues on God Creation quest with updates to the monster difficulty and properties as described in the Foundry thread.
-1.5x EXP and Drops added for one week
-Jump Event continues
-VIP bonus to EXP and Drops continues
-Thanksgiving quest will now be able to properly proceed.
-Scripting and dialogue was patched last week on the Stat Reset NPC so it will properly stack the Magic Stones.
Location of Sam Status resetter in Payon: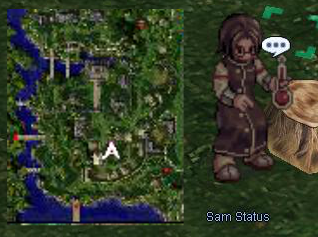 WoE map kafras will now give Prontera Warp Passes like the town Kafras
Thick Battle Manual unbound
Classic 11/20 Maintenance
-Update to God Item creation foundry project should be coming in this week
Greetings Everyone! Today is a supposed to be a big patch day for the classic server. Today we were ready to put in the major changes to the seals quests and god item creation. However, we took a step back and realized that were kind of rushing into this, and rushing into things is how we get into trouble. So instead what we are doing today is releasing the PVP combat portion of the creation process for testing.
An NPC in prontera will take you to the arena. Players can join as a guild leader, or as a guild member (npc will let you choose your role). Then you can run through the event to see how it plays out. We wish to encourage you to try the event for yourself and give us feedback. Next week if no major issues are found we will do the full switch over.
For this week please try to break this in every way you can imagine, and let us know what happened so we can fix it.
-Looking at implementation of magic stone full stat reset with 3-6 month cooldown
-VIP EXP bonus being added to Drops bonus (continuing)
-November Groove Pack
-Thanksgiving quest being worked on for this week
-Stat reset implemented, you can speak with Sam Status in Payon for the reset. Very important: You must first stack the stones before you can receive the reset!
2013 Thanksgiving quest begins in Aldebaran (159, 183)
Reward: 600000 exp/400000 jexp or 900000 exp/600000 jexp (VIP players)
Pizza the Hat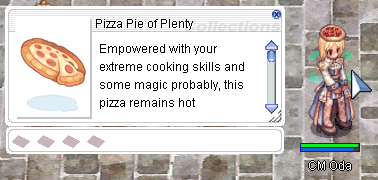 Classic 11/13 Maintenance
Jump event extended
Moscovia opens for travel
Niflheim spotlight ends
Moscovia spotlight implemented
Week of VIP drop bonus
Juices and potions creation NPCs will now take empty potion bottles instead of empty bottles-This had reverted with a recent update but we are setting it back.
Classic 11/6 Maintenance
Relatively quiet maintenance this week as we buckle down to work on a number of big projects for Classic.
-Nifflheim spotlight continues for one more week, Moscovia spotlight begins next week
-Prepping Moscovia for implementation next week
-Kafras returned to normal
-Fixed Payon direct warp when going from the training grounds
-Working on New Classic Training grounds
-Working on God Item and Guild Dungeon 5 project
Classic 11/1 maintenance
-White potion healing reverted to pre-Wednesday levels
-Giant flywings disabled in Guild Dungeons Please collect feedback before the 13th, we will make a determination if it will be disabled or left in.
-Blue herbs and cobwebs added to drop list of Guild Supply Box
-Removing anolian spawns from Clock Tower underground 3 map, increasing spawns of other monsters.
-Adding an option for VIPs to be able to bypass having to use keys to access that dungeon.
Prontera Guild dungeon spawns being massaged to be smoother due to its large size.
Un-helpful Battlegrounds NPCs removed.
Battlegrounds Tierra gorge NPCs moved closer to the warp-in point, a little easier to see.
One change that is best conveyed visually: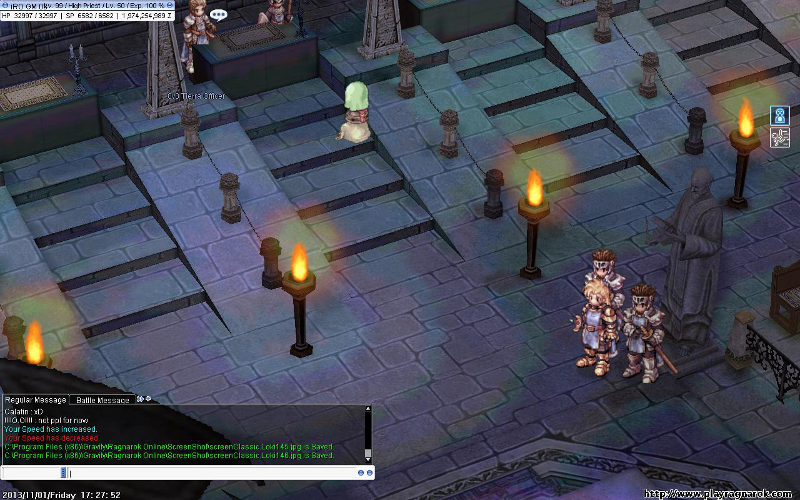 The Tierra Gorge 8v8 NPC has been moved to the center desk so it's easier to find coming out of the portal.