Patch Notes 4/23
*Subject to change anytime
Additional Bug Fixes:
Issue: WoE placing siege engine near orb causes orb to not be clickable.
Solution: Can't put engine near orb.
issue: Colosseum seemingly dead people, though they were recently ressed, are able to move and attack.
Solution: if Ressed they will be standing up and not landshark around.
Hunter Statue Buff: giving 10% stat increase instead of 15% drop rate increase

WoE Recalling Bug: Urgent recall could bring guild mates to a location the guild leader "was" rather than where they are on the guild map by not accepting the recall immediately. We are working on a solution that won't allow the time delay of guild members on the recall (ie no recalling onto the emp right after emp breaks thus bypassing gates, while also not allowing the guild leader to reposition after recall to get a more advantageous non interruptible recall. While this solution is being worked on and tested emergency recall will be disabled.
This was enough of an issue this past week to warrant the temporary removal of Recall.
1. Balance Update
*Please be aware that this is only the beginning of patches that will bring in balance. Currently, the April 23rd update is focused on re-balancing stats on characters and equipment. Other patches coming soon will bring in balancing for DOT Skills, fixes for skill bugs/issues, and improvements on heal amounts and SP consumption. We value your feedback, and have been working diligently on letting them be heard. For more information, please read this thread here.
A. Class Balance: Character stats have been balanced
i. New Stats
ii. Previous Stats
B. Equipment Update
i. Stats given to an item based on rarity will be modified.
ii. Stat Rate Changes
-Scythe: 16% Increase
-Handle: 14% Decrease
-Shield: 27% Increase
-Fist: 12% Increase
iii. Attack Power Changes
-2 Handed Swords: 4% Increase
-1 Sword: 17% Increase
-Bow: 9% Increase
-Side: 13% Increase
-Fist: 10% Increase
iv. Shield
-A basic option for decreasing damage was added.
-According to rarity: 4% (Normal) to 10% (Epic)- Increased by 2%
v. Doll
-Dolls that have been refined will have an increase in Magic Attack.
vi. Book (Scroll) for Priests
-Books are new off-hand weapons for Priests
-Books can be crafted by Blacksmiths or obtained through monster drops
vii. Mace
-The following is a list of Mace crafting ingredients
C. Hit/Dodge
i. Hit/Dodge formulas have been re-balanced
ii. Class Stat Bonuses will give more hit now (Exp: Warrior's 1 STR will give +3 Physical Attack/+2 Parry/+2 Hit)
2. Events
A. 1st Anniversary Event (4/23-5/14)
1. To start the Anniversary Event Quests, find Clinkz near the Prontera Fountain.
i. Finishing the quests will give the following items:
-1 Day Elite VIP
-1 Large Bag
-2 Phantom Stones
-2 Adventure Battle Manuals
-Anniversary Tokens
ii. Event NPC's Angelica and Devilica
i. Both NPC's provide a Daily Quest that rewards Anniversary Tokens when completed
ii. Trade in the Anniversary Tokens at NPC Angelica for special rewards.
-Exchange List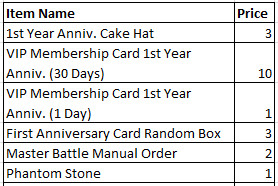 -First Anniversary Card Random Box Contents:
Chance to get one of the following: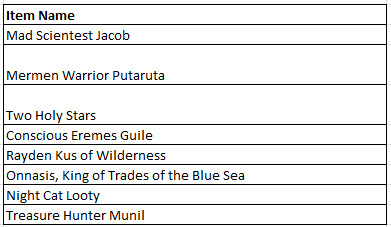 B. 1st Anniversary Letter Collection (4/23- 5/28)
1. Monsters will be dropping Letters (called Broken Pieces) during the event period
i. The following Broken Pieces will be dropping from monsters:
-Broken Piece A
-Broken Piece N
-Broken Piece I
-Broken Piece V
-Broken Piece E
-Broken Piece R
-Broken Piece S
-Broken Piece ANNI
ii. Broken Pieces can be traded in for items at the Kafra Service

C. Event Random Box Update
1. The box now has a chance to drop one of the following: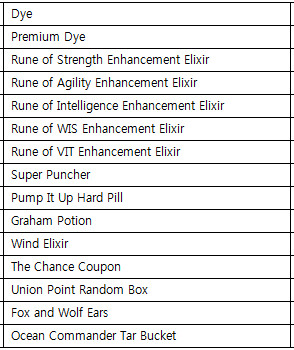 3. Kafra Update
A. New Items
-Munil's Costume Random Box (April)
Has a chance of getting:
Blocktoy Costume (M or F)
Amusement Park Costume (M or F)
Tartan Costume (M or F)
Clockwork Toy Costume
-Munil's Accessory Random Box (April)
Has chance of getting:
Clockwork Toy Bows (F)
Clockwork Toy Rose (M)
Amusement Park Mask (M or F)
Tartan Wig (M or F)
Blocktoy Hat (M or F)
Vitality Hat
Shadowless Hat
Goggles Hat
Hat of Oblivion
-Premium Mount Box (with chance of Pony Deer Princess)
-Pony Deer Princess (30 Days)
-Gold Membership Pack
-Platinum Membership Pack
B. Phantom Pyramid
i. Steel's Will (perm, 1 slot) can be obtained on 7F
ii. Clockwork Toy Costume (30 days) can be obtained on 6F.
C. Set Effects
i. New Set Effects
1. Steel's Will (until 6/4)
Items: Steel's Will and Nerd Glasses
-Condition: Equipping the two items will give a 2% increase in Vitality, Acceleration, and Crit and a 4% increase in Accuracy
2. Clockwork Toy (until 6/4)
Items: Clockwork Toy Costume, Clockwork Toy Bows, Clockwork Toy Accessory
-Condition: Equipping two of the above items will give +10 in STR, WIS, INT, and AGI, 30% increase in Drop Rate, +50 Attack and Magic Power, 12.5% increase in Attack Power, and 12.5% increase in Magic Power
3. Tartan (until 6/4)
Items: Tartan Costume and Tartan Wig
-Condition: Equipping the two items will give +5 in STR, WIS, INT, and AGI.
D. Fusion Tablet
i. Blocktoy, Amusement Park, Tartan, Clockwork Toy, and Steel's Will will be added to Random Fusion.
ii. The Selective Fusion system will be removed from the game.
E. Birthday Blow-Out Sales!
i. We will be having a different sale every week based on the Kafra Shop tabs!
-Appearance Discount Week: Apr 23- Apr 30
-Refinement Discount Week: Apr 30- May 7
-Honing Discount Week: May 7- May 14
-Power-up Discount Week: May 14- May 21
-Modify Discout Week: May 21- May 28
*For more information, please visit this page.
Edited by StormHaven, 23 April 2014 - 07:01 AM.