Berserker Class Update:
The Berserker is getting a more serious round of changes.
Prior to update 173, Berserkers were known for their high critical damage. While the concept of a rage fill melee character was envisioned, it was never portrayed through the character's skillset or style of fighting. Many of the Berserker's skills were limited duration buffs and their offensive choices were limited to only 2 (3 if you count the Burning Dash). While there were small nuances between a warlord and berserker, overall it felt very much the same.
Post update 173, we envision the Berserker as a melee maniac that ignore's their own physical well being in order to obtain the most damage as possible.
One of the biggest changes to the Berserker class is that their abilities will no longer use mana. The Berserker instead will be using their own health as a way to use their newfound skills. Another big change to the Berserker class will be additional ability to use Dual Blades as a new weapon option. The whole Bartuk Warrior branch will be able to use Dual Swords, but the Berserker are intended to be the Bartuk's master of the weapon.
Berserker Tree Before: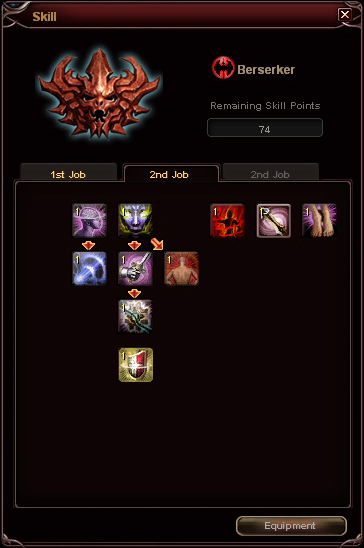 Berserker Tree After: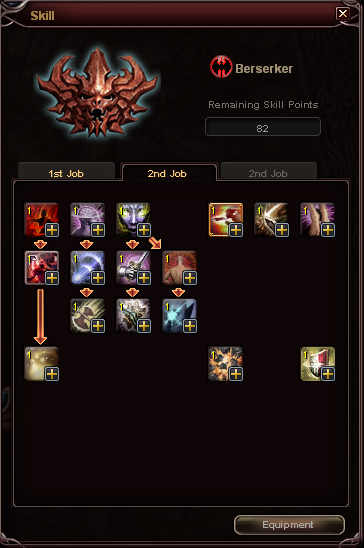 NEW SKILLS:
Blood Rage: Deal damage to the opponent to drink their blood and replenish your health.
Bartuk Legacy: Passively gain a large increase in Max HP in exchange for less armor.
*New* Hyper Mode: Sacrifice a large portion of your own HP in order to regenerate a substantially larger amount over a short period of time. (Old Hyper mode is renamed: RAGE)
Megaton Slash: Use the full force of your might in order to do massive amounts of damage
Bartuk's Savagery: Sacrifice a large portion of your own HP in order to be immune to slows, sleeps and other forms of crowd control for a short time.
Shred Armor: Deal a great amount of damage in order to shred your opponent's armor for a short period of time.
Rend Flesh: Gut your opponent so they can massively bleed for a short period of time
While these changes are definitely going in in the next update, we will continue to monitor in game statistics as well as player feedback.