I think it's better for CM team that they don't have to move my thread every week. So, my translation of any costume egg or random items package in the future should be posted here.
Edit :
- I repect WarpPortal's forums rules. If there's a sub-forum kRO/jRO translation, my topic should be there as usual It's up to CM team's decision.
- My future translations regarding RagCan & Costama should be in this topic which is already in the kRO/jRO sub-forums. I think it's better than posting new thread and CM team has to move it every week.

I'm really sorry if the "strike through" didn't mean what I really want to say.

_______________________________

CosTama Animals IV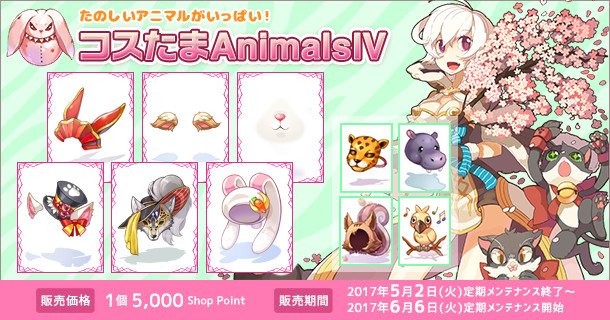 Price : 5,000 Shop point (500 Yen)
Sale period : May 2nd - June 6th, 2017

A costume egg contains a random costume based on the "Item Design Contest 2016" awards.

Award winning works from Item Design Contest 2016

You can watch more award winning works here.

Original designs for this costume egg
Headgears that are converted to costumes in this egg
Random rate
___________________________________________________
Older Ragcan & CosTama :
- Ragcan Spring - April 12th, 2017
- Ragcan April & CosTama Variation - March 16th, 2017
- Ragcan March - February 17th, 2017
- Ragcan February - January 31st, 2017
- CosTama Hairstyle Collection III - April 4th, 2017
- CosTama Coordinate - March 7th, 2017
- CosTama Gothic - February 7th, 2017
- CosTama Fluffy - January 4th, 2017
- CosTama : Flower Garden - April 11th, 2014 (Created by DonatoX)
Edited by OBBO, 06 June 2017 - 10:55 PM.